Available for Author. 
In Inspera Assessment you can create a Question Set where you can group and structure questions. There are a number of different question types to choose from when creating a Question Set. When a test is created, the Question Set is used to present the questions to the candidates. 
In a Question Set you can do the following:
Create a Question Set and add Questions
1. Select Author in the main menu and click Question Sets. 
2. To create a new Question Set, click Create New. 

3. Name the new Question Set. 
As the Question Set can be reused and copied over time, you may want to give the Question Set a name that is meaningful, simple and easy to use. The name may contain subject identifiers and semester. For example: "GEO100 autumn 2020".
4. To add a question to a Question Set, you can either choose to create a new question or use an existing question: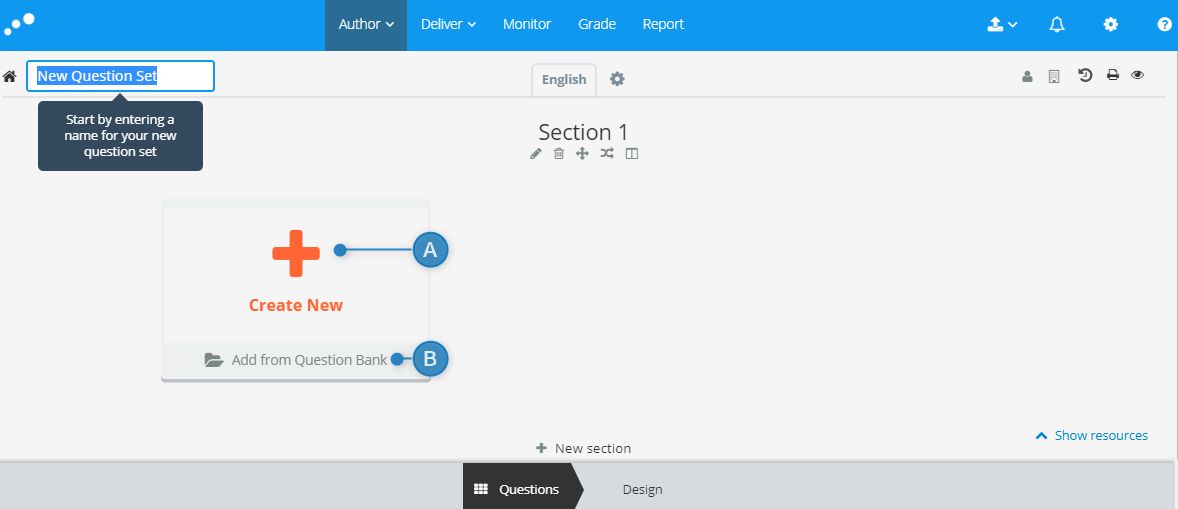 A) To create a new question, select Create New. You will then be presented with a list of available question types. For more information, read Create Questions. 
B) From the option Add from Question Bank, you can use pre-existing questions that you have access to: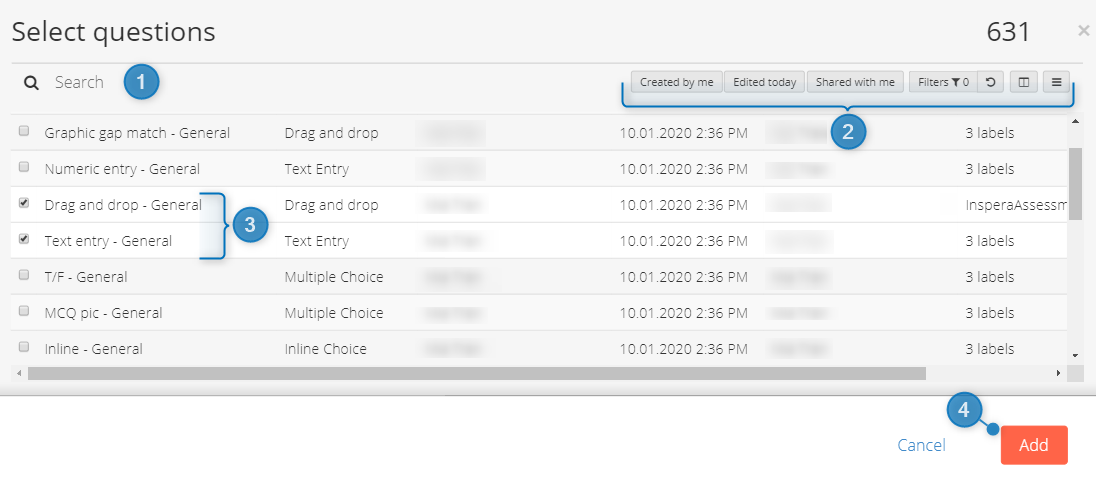 When selecting question in the question bank, you can search (1) and / or filter (2) for questions you want to use. It is possible to select one or more questions from the question bank (3). When you have selected the questions that you want to use, click Add (4). 
5. When questions are created, you return to the Question Set's edit mode. 

If you want to add more questions, repeat the process under point 4 again. 
In the Question Set, you can also edit already created Question Set if you wish. 
Tip: Some question may be used in multiple Question Sets. If you just want to change the question for the new Question Set, you may want to duplicate the questions before editing them. 
6. When you have added the questions you want, the Question Set's edit mode will display all the questions in the Question Set. 
To change the order of questions, use the arrow icon to drag and drop the questions to the desired position: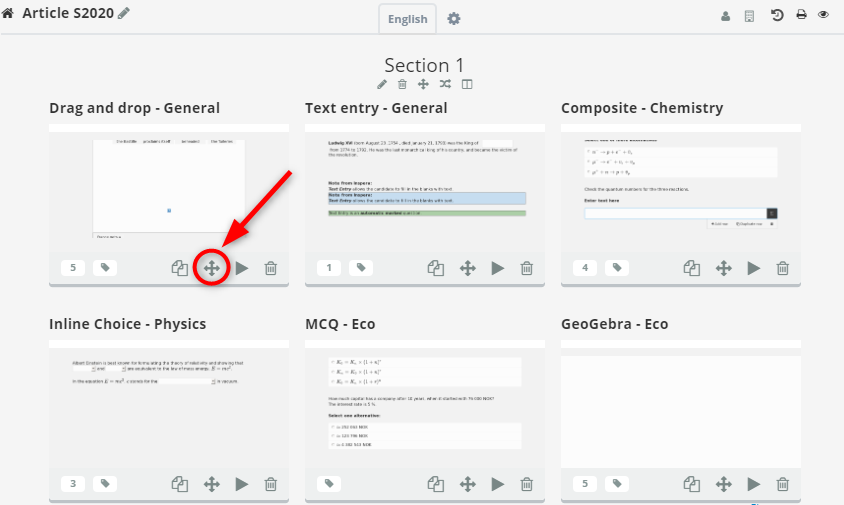 Note: You do not need to save when you have finished adding questions to the Question Set. Inspera Assessment does this for you. 
To exit the Question Set, you can eg. press the following:
"Inspera" button: To get to the "Home" page
"Home" button: To return to the list of created Question Set

Add Sections
In a Question Set, you can add sections.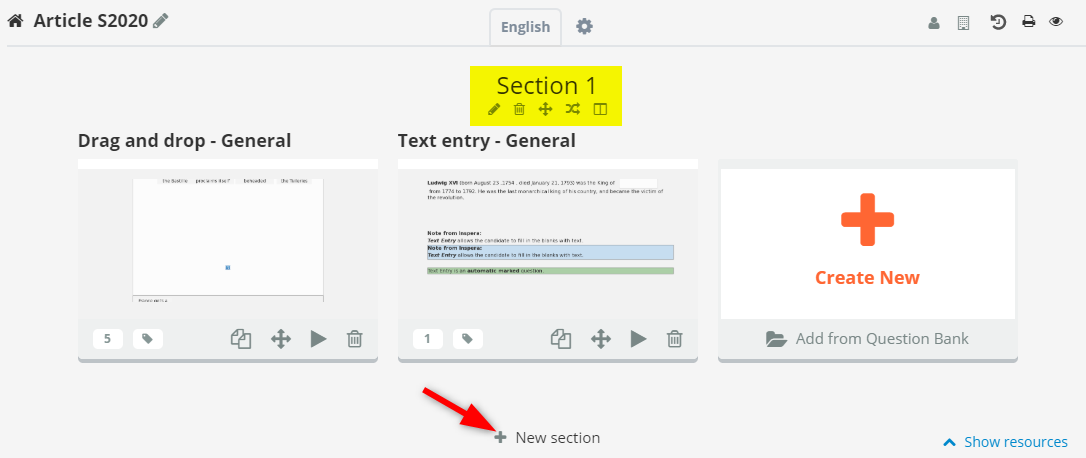 A section is defined as a group of questions in a Question Set. Inspera Assessment offers a number of section settings. For more information about sections and the different settings, read Sections in Question Set. 
Add Resources
In Question Set, you can also add resources such as web pages, websites and documents.

By adding resources, candidates can access additional resources safely and easily during closed-book test (Safe Exam Browser). For more information, refer to the Additional resources in Question Set (whitelisting) and Add a resource in Question Sets articles.
Set Design settings
As an author, you can also determine the design settings for a Question Set by selecting Design at the bottom of the Question Set's edit mode.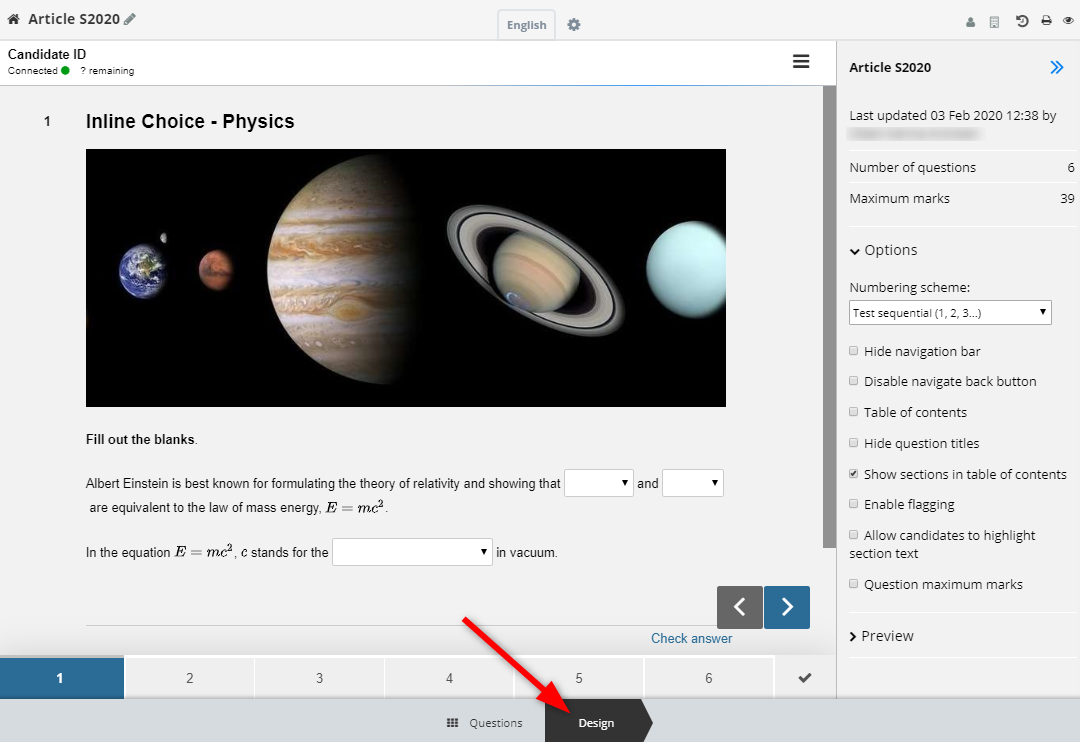 See Design settings in Question Set for more information about the different settings. 
Preview the Question Set
When you are finished with the Question Set, you should quality check it. Click on the eye icon
in the upper right corner. You will then get a preview of the Question Set that corresponds to what the candidates will experience when the complete the test. For more information, see Preview questions and test correct answers.
If you want to have multiple question writers on your Question Set or need someone to read and quality check the questions you have created, you can invite co-authors on your Question Set. 
Read more about inviting co-authors to your Question Set. 
It is difficult to quantify a maximum number of questions in a Question Set because the 'size' of a question set is determined by number of characters/letters which relates to the lines of code/text of the full Question Set. Images and other attached material (pdf, video) create one line of text each for a question. Typically <500 questions in a question set are accommodated, but please bear in mind that this number will vary if there are longer or shorter text questions in the set.
You will not be able to add more questions to a Question Set if the size upper limit has been reached and may receive an error message such as "Invalid session, your session has been invalidated. Try reloading the page". Please remove questions or contact Service Desk for assistance.