Standard features
General options are available for all question types. These options are listed and detailed here: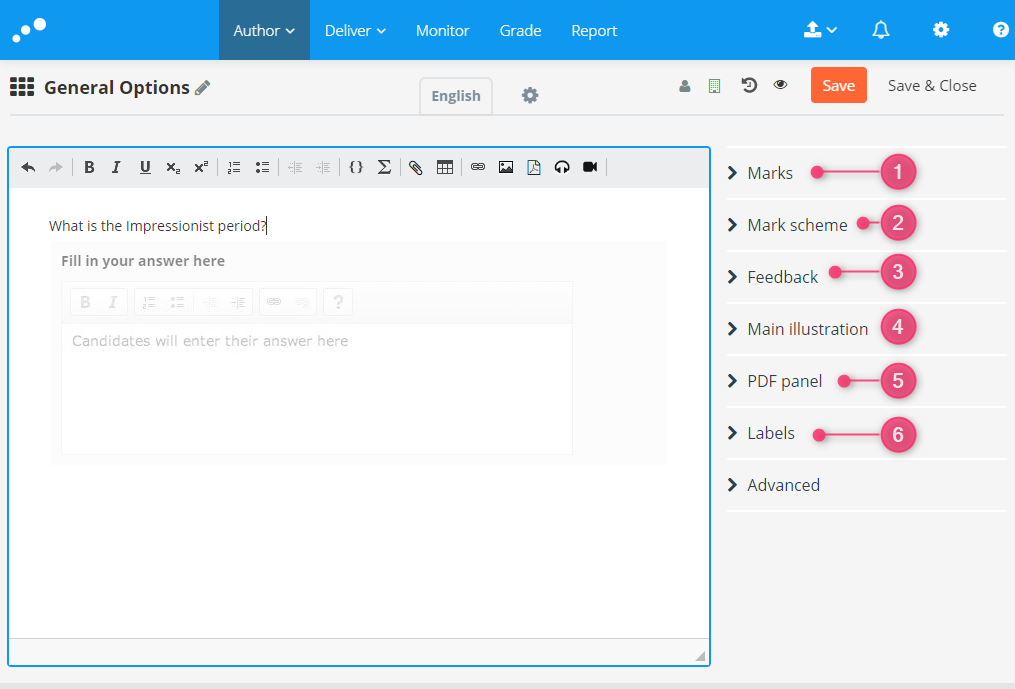 (1) Marks
There are several ways of setting up marks for automatically marked questions.
Manually marked questions are a bit less advanced since they only require a maximum score.
Threshold values (requires activation)
Calculate marks on questions by using threshold levels. Available for all automatically marked questions except Matching/Pairing, Drag and drop, Hotspot and Code compile.
Bands and Criteria (requires activation)
Award marks by using bands and criteria. This feature is available for the question types Essay and Oral.
Criteria (requires activation)
Award marks by using criterias. This feature is available for the question types Essay and Oral.
(2) Mark Scheme
If this feature is activated for your institution, a Mark scheme can be added to the question for the graders to use in the grading process.
(3) Feedback
If this feature is activated for your institution, predefined feedback can be added per question or per alternativ.
Predefined feedback per question and per alternative
(4) Main illustration
All questions can make use of illustrative media in the heading. You can use the following media:
Image (supported formats: *.jpg, *.gif, *.png)
Code (ie. embed code from Youtube to show a video)
When in edit mode in a question, choose "Main illustration" in the menu to the right of the question. Default is set to "None". Choose either "Image" or "Embed code".
While the player will resize the image for the students, keep in mind that larger images will take longer to load, and that scaling the image before adding it is recommended. A width of around 800 pixels is recommended
Warning:
On lockdown tests using SEB or IEP, embeded code from Youtube works, but videos from other places (eg. Vimeo) may not. You should open the test in SEB as a candidate to ensure the video plays as expected
.
(5) PDF Panel
Attach a PDF. The PDF will not be visible in question edit mode, please preview your question to ensure it is displayed correctly. The PDF will be shown to the left of the question, and the student can resize the panel.
Limitations:
Internet connection is required for the PDF panel to be displayed for the candidate. This means that if a candidate were to go offline during a test and then navigate to a question with a PDF panel, it will not be displayed until internet connection is restored.
If the question has several language versions, the PDF must be added to each translation (whether it requires translation or not).
A PDF added to the PDF panel is not possible to download directly, even in open browser tests. To work around this the student can use the Print-feature to print to PDF, which will save a version of the PDF locally.
If the question is being used in a test with lockdown browser, make sure that there are no links in the PDF. If the student clicks on any links, they will exit the lockdown browser and the invigilator password is required to re-enter the test.
If the PDF should be possible to download, we recommend that you use Insert file from the toolbar in the question editor.
Tip: To rotate your PDF, hover over the PDF and type 'R'.
(6) Labels
Use labels to tag your questions with, for example, specific subjects. You can later use the labels to easily find your questions in the question bank.
General options for interaction elements
External identifiers
Information: This feature requires activation. Can't see it? Please contact your local super user for more information.
The external identifier is a string that uniquely identifies the question. This identifier has no purpose internally in Inspera Assessment but is for use in any external system that collects data on the question.
The identifier can be changed but it is initially generated automatically on each question.