Available for Author with Extended Access
Information: This feature is currently in Closed beta and only available for invited customers with test accounts.
We are introducing Item Banks to support institutions' need for maintaining control of their test assessment content, as well as allowing authors to better organize their content. Think of Item Banks as a folder system where access is controlled centrally and the content with an Item Bank is automatically shared with all users who are members of the item bank. All authors who have access to the Item Bank will have full access to the content within the bank.

We are continuing to develop and improve this functionality, but would like to invite customers who have test accounts to join beta testing.
After you've gone through the process of creating an Item Bank, you can learn how to populate an Item Bank with content by clicking here.
Create a new Item Bank
Go to the Author module
Click +Create new bank, located at the bottom of the list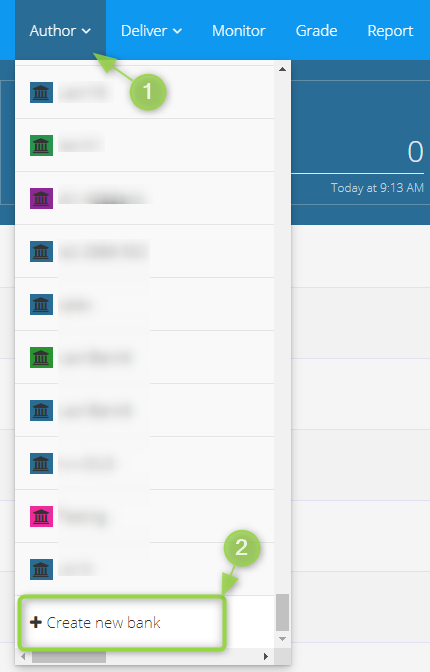 Manage Bank
In the Properties tab, fill out:

Bank Name - This is what is displayed in the pulldown menu
Prefix - This is the name displayed in the main menu
Color - This is the Item Bank icon color
Organizational Unit - This is the organization that will have access to the Item Bank

The Rules tab is being further developed. Please leave the current settings as they are.
The Access tab displays individuals from your organization unit that have access to the Item Bank content. Administrators can change / view member's roles and organization units by clicking on their name from here.
The Archive Bank tab will delete the Item Bank's content. This action cannot be undone.
Click Done, and the Item Bank is created!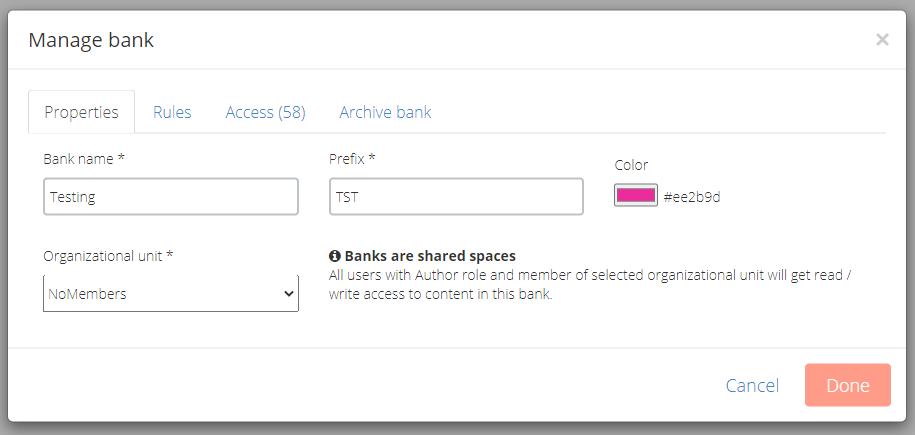 Item Bank Header
Your Item Bank will now be visible in the upper menu. This lets you know which Item Bank you are working out of.
You can also view the members of your organization unit from here by clicking on the number of members, as indicated in the pink box below.

Change Settings in an Item Bank
Pull down on your Item Bank in the upper menu
Press the gear icon to change settings in Manage Bank.

From here, you can change your original settings such as Bank name, Organizational unit,

and

prefix.

Next, you can find out more on how to populate an Item Bank with content by clicking here.
Known Issues:
Limited Access to Authoring Page




To get access to Author and the content created prior to Item Banks being activated, a user must have access to at least one Item Bank. If not the Author tab will not be visible.