Introduction
In Inspera, we have a distinction between what are called administrated explanations and non-administrated explanations. The functionality for explanations is available to everyone, but administrated explanations is an additional feature where the planner can administrate the process by requesting explanations on behalf of candidates, see the status of the explanations, and send explanations to the candidates.
Administration of explanations is set up in the test settings.
New in Marking 2.0 is that the administration can now also be done directly in the marking tool, where the planner now has several opportunities that previously only existed in Monitor.
In the workspace panel you will find to workspaces that give you both an overview of the explanations, and the possibility to administrate the explanations if this is activated on the test.
Content in the Explanations workspace
This workspace contains the following features:
The candidate list
The question view
The explanation feature

The candidate list
The candidate list shows an overview of final grades for candidates and whether they have requested an explanation or not.
The candidates can be filtered by: All candidates, Explanation requested, Ready and Sent.
Every list contains the columns: Candidate, final grade and explanation.
These columns can be edited from the menu Edit columns. It is also possible to to make own filters in choosing the menu Show filters and search.

The question view
The question view window works in the same way as it does in the marking workspace. It gives you the opportunity to browse the questions from the specified candidate. You can also view and write highlights, annotations and page notes.

The explanation feature
When you select a candidate in the candidate list you will be able to see who can edit the explanation, when it can be sent, and the request status of the explanation. If there exists a written explanation you can read it in the field below.
Write and send explanations as a grader
Graders write and send explanations in the window to the right (3).
Read guide to explanations for graders for more information.

Administration of explanations for planners
See guide for planners.
In the explanation panel (3), the planner can request explanations on behalf of the candidate, or cancel a request if needed.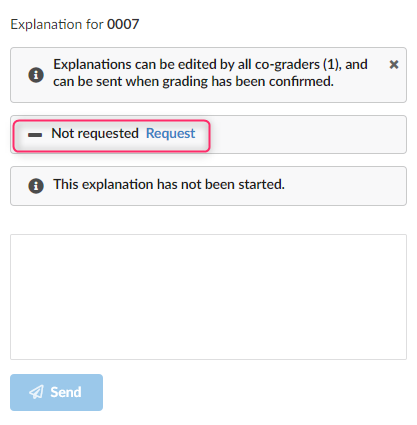 In addition the planner can send the explanation from the same place, the send button will be activated when all prerequisites to send an explanation have been met.
Note: The planner cannot send explanations if the test is not set up to use administration of explanations. In this case, the grader is responsible for writing and sending explanations.