Note: Administrator role is required to access this view
From the User Administration view you have access to all users on your account. You can create new users and update existing ones.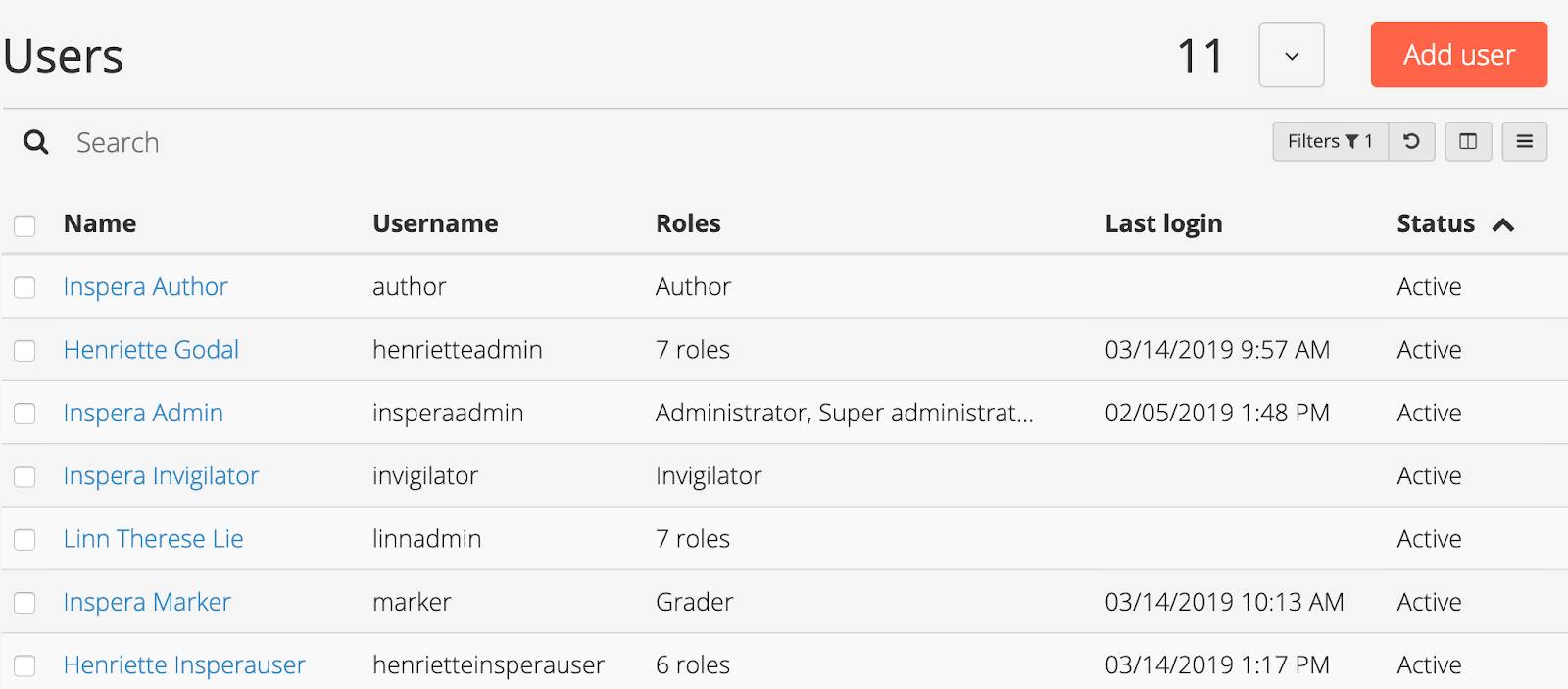 Looking for a specific user or user group?
Search: type at least three letters in the search field to search for a specific user
Filter: Select Filters to filter by Roles, States (active/disabled) and/or when the users were created
The list is filtered to show active users only as default.
The filter for "Roles" is limited to select all users with a specific role, and does not exclude users with several roles. If you only want to view a list of users with one specific role, please export users to CSV. The CSV file can be imported into your tool of choice (Excel, Google Sheet) where you can easily filter on roles.
Export users to CSV:
You can download a CSV file with the users. If you apply a search or filter, only the users in your view is included in the CSV. Update the columns you want to include from the column selector at the top right.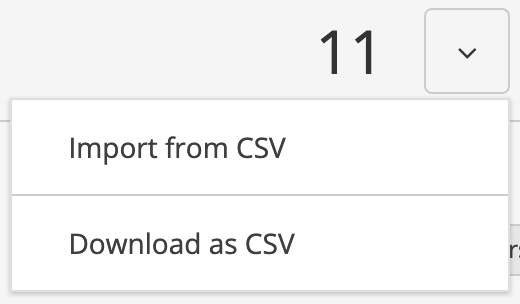 Delete a user:
First of all, are you sure you actually want to delete the user? If you delete a user, you cannot restore it. Content created by the user will not be deleted, but it will be indicated that the user no longer exists. If you want to revoke access without permanently deleting a user, edit the status and disable the user. The user will no longer be able to log in, but when interacting with content created by this user, you will see who it was created by. It is also possible to enable a disabled user if access should be regained.
Edit profile:
Editing a user allows you to update the personal information, password, membership in organisational units and roles of a user. The only information you are not allowed to change after a user is created is the username. The person whose profile you are editing will receive an email notifying them their profile has been updated.
Create new user:
Create new user manually:
Input the personal details of the user, the organisational units they should be member of (if any), and select the roles the user should have. If SSO-integration is activated on the account, you can input their SSO username to allow the user to log in with their SSO username and password. The fields Username and Password sets the login credentials used when logging in with Registered user.
If you do not set a password, an email will be sent automatically to the user prompting them to set the password themselves.
Create new users by import from CSV:
When selecting Import from CSV in the User Administration in Inspera Assessment, the format of the CSV file is displayed in the interface once you select import from CSV. Usually it follows this structure:
First Name, Last Name, Email, SSO user name
Note: Import is limited to 250 lines in one file.
Create CSV file
You can use various editors to create a CSV file, such as Google sheets, OpenOffice, Notepad or TextEdit. Remember though that it is important that the file is in the correct format before it is imported to Inspera Assessment. A text file could look like this with two users, format First Name, Last Name, Email:

If using Google Sheets, follow these steps:
Create a Google sheet
Add the users, one user per row, and follow the structure described in the interface once you select import from CSV in Inspera Assessment.

Give your file an appropriate name
Save by going to "File", "Download", and "comma-separated values (csv, current sheet)"
This file will now be located on your computer and can be uploaded to Inspera Assessment.


When the file is uploaded, select the Memberships and Roles the imported users should have. If the users you wish to import should have different memberships/roles, one file must be created per membership/role (or set of roles).
Note: The file should be UTF-8 encoded. Google Sheets use this by default, but other programs like Microsoft Excel might use different encoding. Using UTF-8 ensures that any special characters (æ, ø, å, ö, ä) displays correctly.
CSV import with Organization hierarchy:
Information: This feature requires activation
If your institution uses organizational units in Inspera Assessment, memberships can be imported along with the user. The specific format of a hierarchy in the CSV will be:
First Name, Last Name, Email, OrgLevel1|OrgLevel2|OrgLevel3, SSO user name
If the SSO user name in the CSV matches the SSO user name of an existing user, the existing user will be updated with the contents in the CSV file.
Exceptions:
Any existing memberships will not be removed even if they are not included in the import file. User roles will not be updated.
API:
Inspera open APIs can be used to add, update and delete admin users. See the users section in the API documentation for more information: https://ia.inspera.no/apidoc/
Integrations:
Inspera Assessment has integrations with user administrative systems, such as FS BAS and Sebra, from which admin users may be created directly.