Information: This feature is currently in Beta. To activate, please contact the Service Desk.
This feature allows candidates to select which questions on a test they wish to answer.
If candidate-selected questions are enabled, candidates are able to select which questions they wish to answer from a selection. Only the questions which they select will be submitted for grading, even if they have answered other questions.
Warning
:
When using InsperaScan and Candidate-selected questions in tandem, if a candidate incorrectly fills in a Question code to a question that they've
not
selected to answer, the question submission will appear blank.
How to enable and configure candidate-selected questions
This functionality requires activation and is available for authors of a question set.
We recommend adding all questions to the section before setting the maximum number of questions to answer. All questions in the section must have the same maximum marks for the option to be available.
1. When authoring a question set, just below the section heading, click
Randomisation, pulling, and selection.

2. The author can then determine the maximum number of questions to be submitted within a question set section.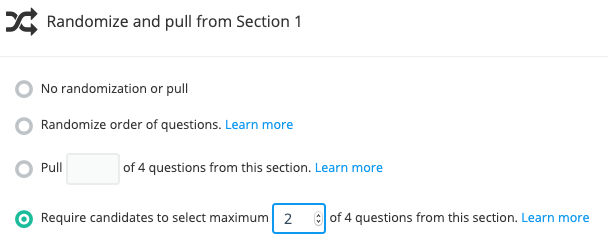 Tip: It is a good idea to add descriptive text for the candidate on how the test is configured so the candidate knows what to expect.
Candidate experience
When candidates are given the option to select questions, they will be presented with the option to select the given question they are on with a default of "Undecided".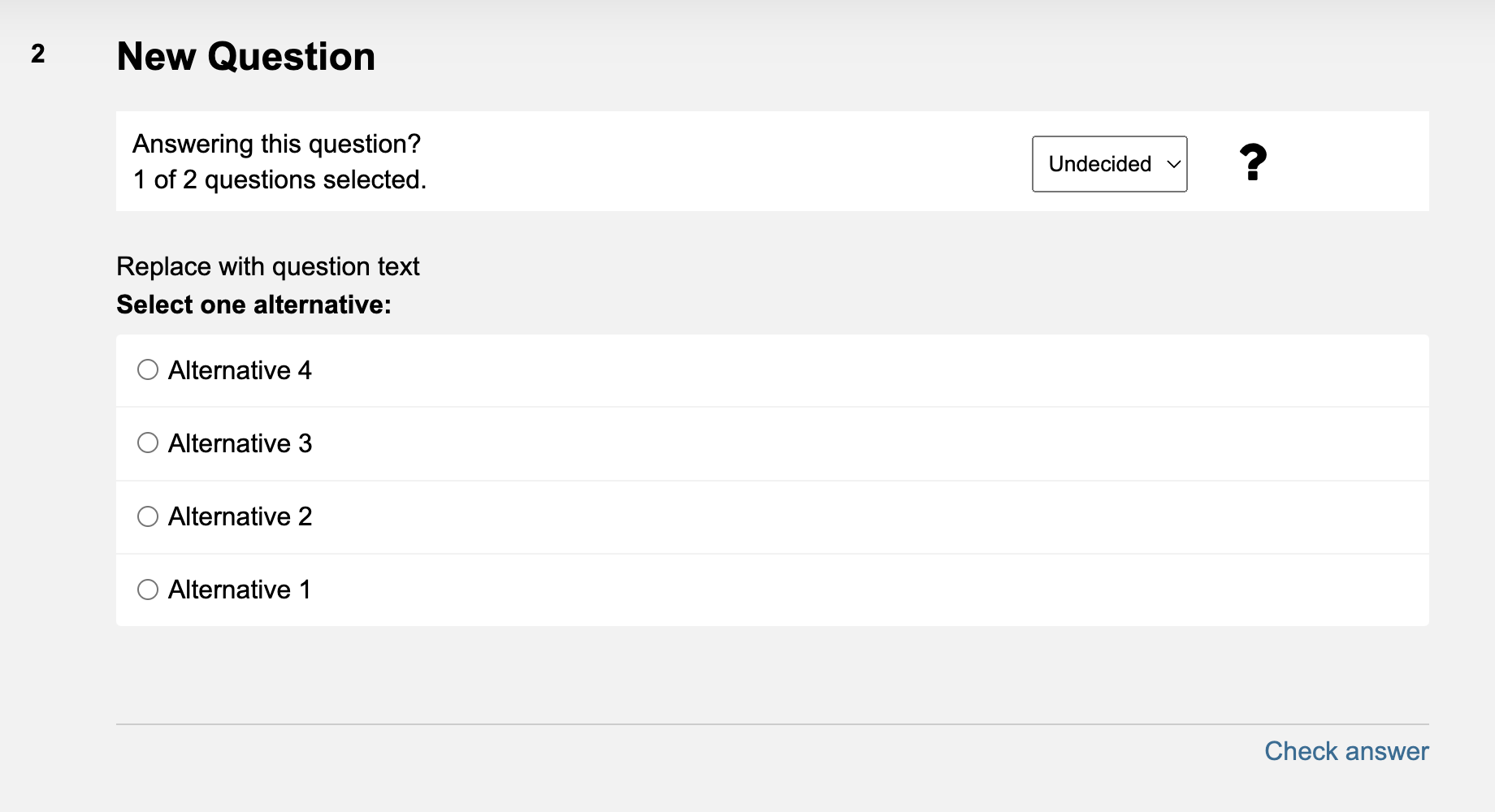 The candidate may then indicate if they want to answer this particular question by selecting yes or no.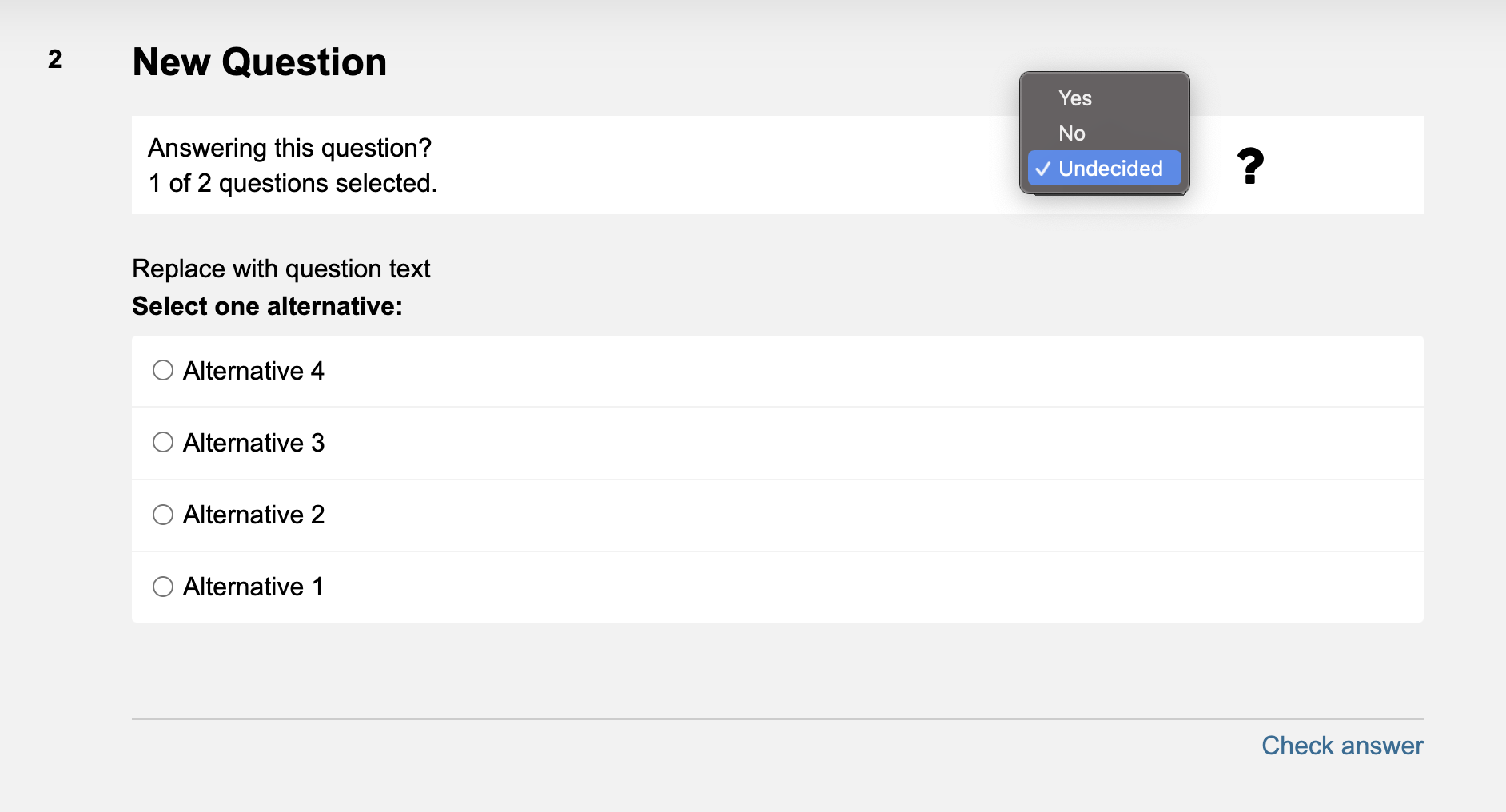 If the candidate starts answering the question without indicating selecting, the question will automatically be selected (Answering this question = Yes):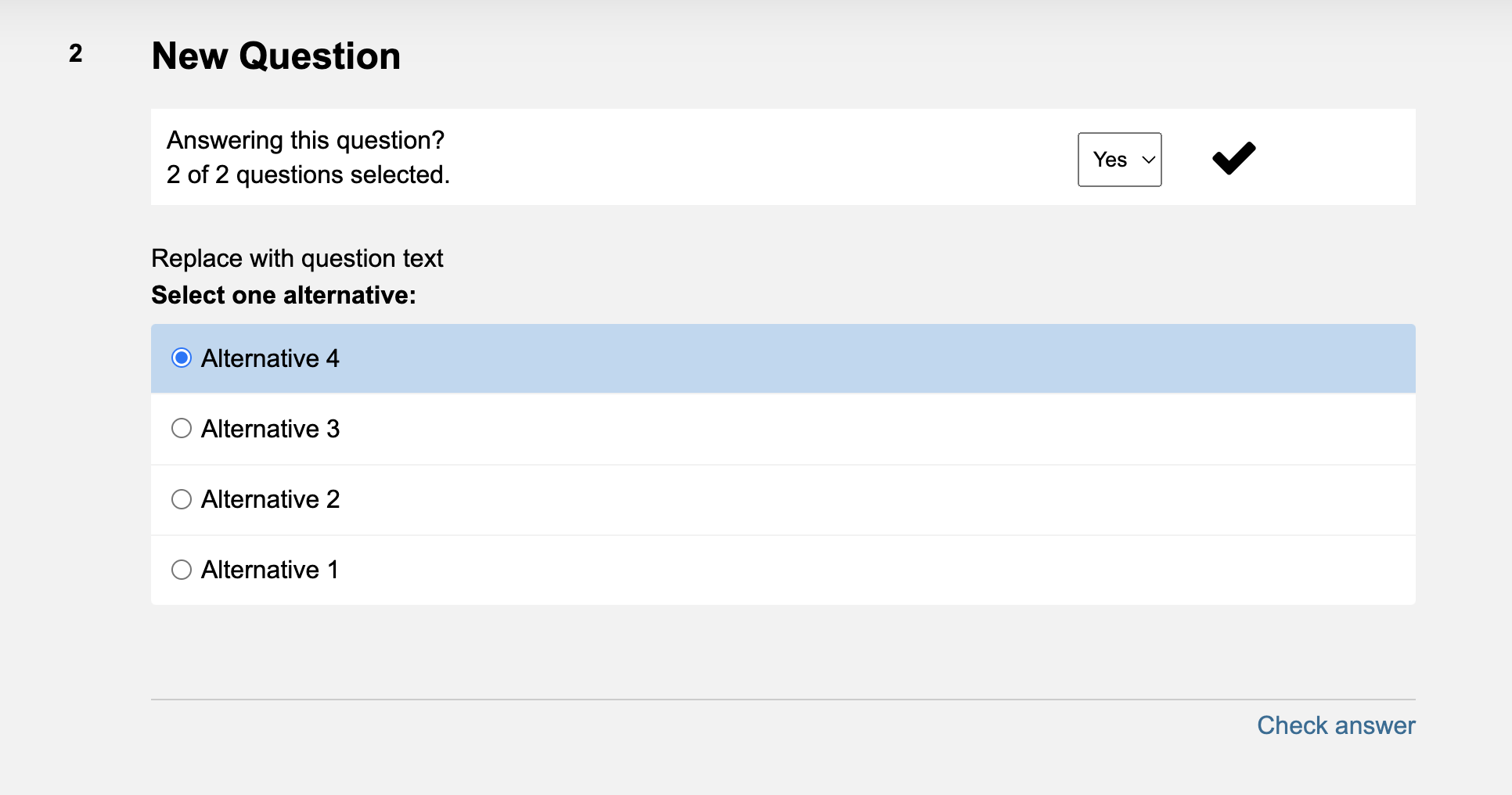 If the candidate has selected the maximum amount of questions in the section, the remaining questions will automatically become not selected (Answering this question = No) and the candidate will be prevented from answering or selecting until unselecting a selected one: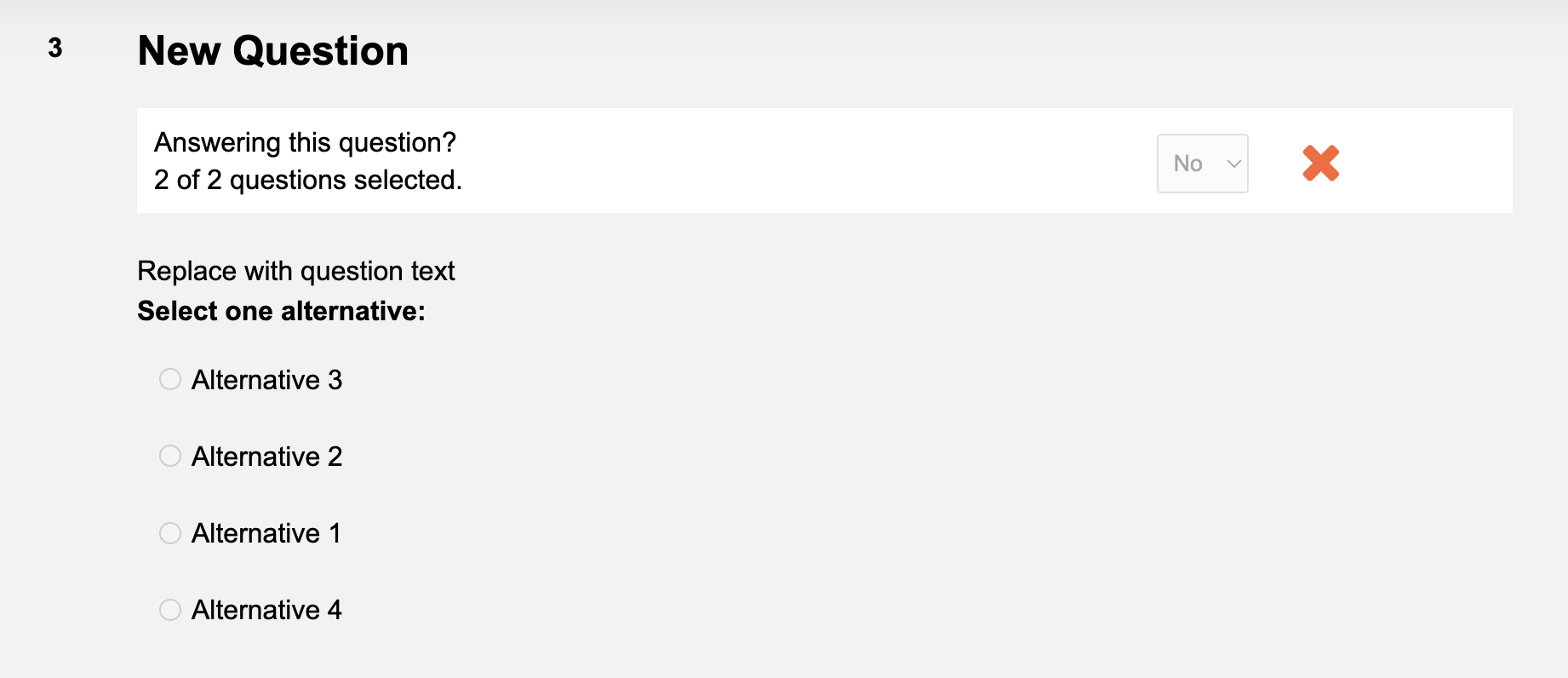 When the candidate has gone through all questions, the summary page will provide an overview of the sections and the selected questions on the test: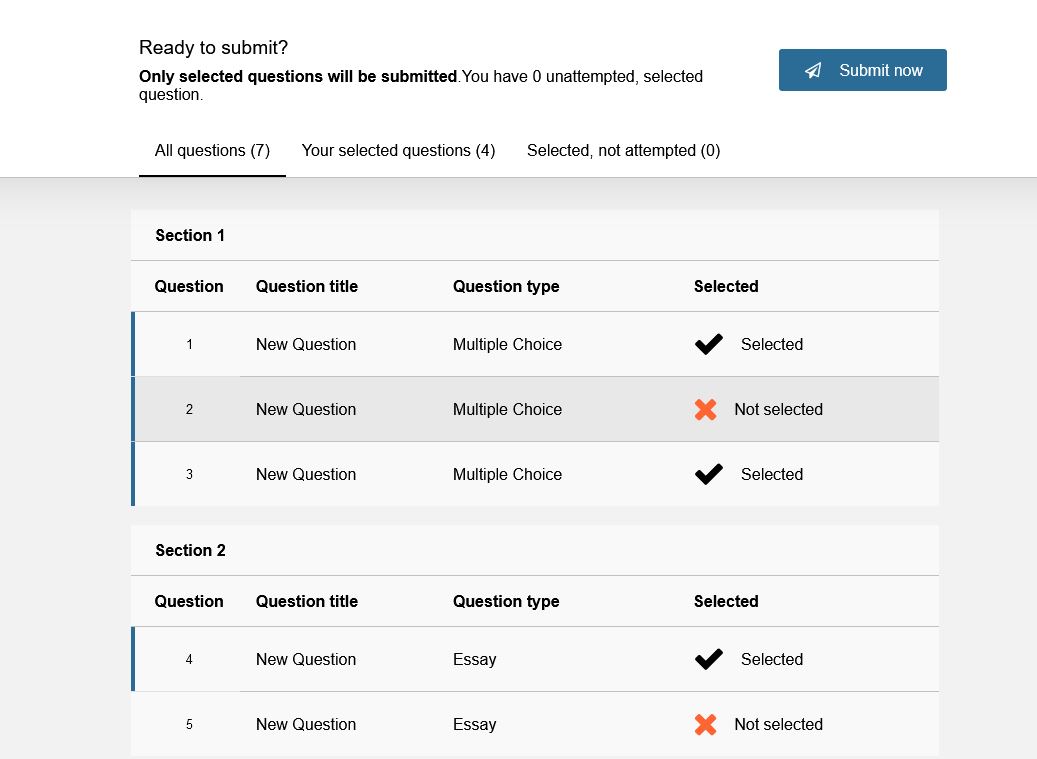 A Candidate's selection will be retained for the duration of the test, even if they log out and return at a later time. Candidates will still be able to change their decision up until the point that they submit their final submission.
If the test is opened up for resubmission, selected options and responses will be available as they were when submitted to the candidate. The candidate may again change their selection until they resubmit.
Please note: Only selected questions will be submitted.
Grading candidate-selected questions
When grading, graders will only see the questions candidates have chosen to submit and the grading will otherwise be the same as for other tests.
If threshold values are used, the grade will be calculated based on the maximum possible marks for the section.
See the grader guide for more detailed information.