When setting up an Inspera Assessment test, there are several options to choose from to create a test that suits your specific needs.
This article will describe the exam day settings.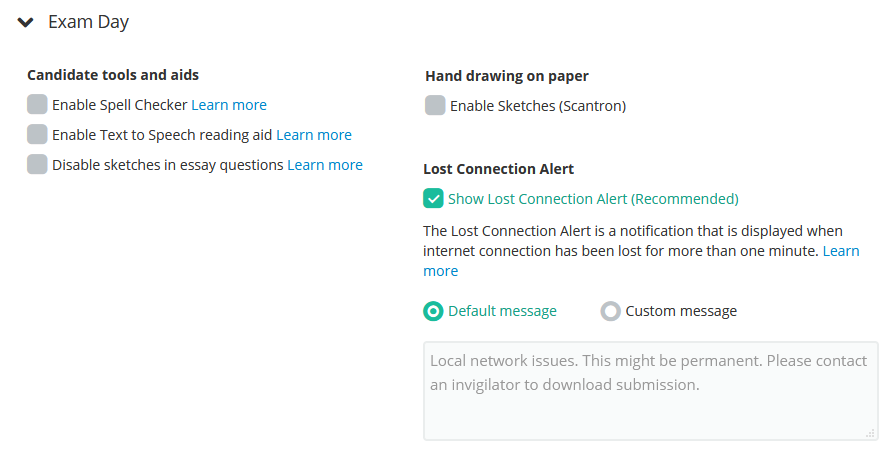 Candidate tools and aids
Enable Spell checker - This will enable spell checker for all candidates. The spell checker is available in the Essay question type. It will not be available in other question types like Text entry.
The basic functionality is a dialogue box spell checker.
If selected, another option may become available - Enable spell check as you type. If you enable this the candidates will have continuous spell checking like the one you might already be familiar with in other apllications like Word. If this is not enabled (or not available in the settings), the candidates can still manually turn it on in the Essay toolbar.
Read more about spell checker here: Enable spell checker
Enable Text to Speech reading aid (requires activation) - This will allow candidates to get the question text read out loud. This option is also available in lockdown tests.
The candidate can enable or disable TTS through the options menu.
Enabling TTS applies to all candidates on a test, it cannot be enabled for individual candidates.
The language used for TTS is determined by the language the candidate has chosen in the options menu.
TTS is available in tests with Safe Exam Browser and Inspera Lockdown app for Chromebooks, as well as in open browsers.
TTS is available in demo tests that require the user to be logged in (not in public demo tests).
Read more about Text-to-speech.
Disable sketches in essay questions - The sketch tool in the essay question type is a very basic tool for drawing using the mouse. Enabling this option will remove the tool from the essay toolbar.
Hand drawing on paper
Enable sketches - Premium functionality that allows the candidates to write their answers, or part of their answer, on paper that can then be scanned and added automatically to the correct candidate and question.
Lost connection alert
Show Lost Connection Alert - The option to Show Lost Connection Alert is a default setting within Exam day that can be unchecked in the test creation process. The Lost Connection Alert is a notification that is displayed when internet connection has been lost for more than one minute. You may use the default message, or create a custom made message for your candidates.
If using this alert on remote exams, we recommend you to change the message to a more specific instruction to the students of what to do if losing internet connection, for example: "Please try to restore the connection. If unsuccessful, please contact XXX for help".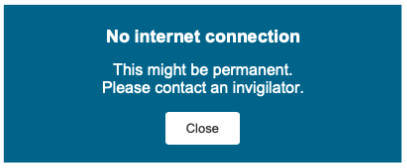 Test settings explained

This presentation was a part of Inspera Seminar 2020. It walks you through all test settings in Inspera.