This is available for Planners and Students.
Inspera Assessment offers spell checker functionality in Question type - Essay. The spell checker can be enabled for all learners at once in the test options, or for individual learners in the candidate list.
Content
How to enable spell checker
Spell check as you type (SCAYT) will be available for planners to enable in the test settings. This only works for essay-type questions.
In the Test settings, navigate to Exam Day.
Click Enable Spell Checker.


Clicking Enable Spell Checker will automatically Enable spell check as you type.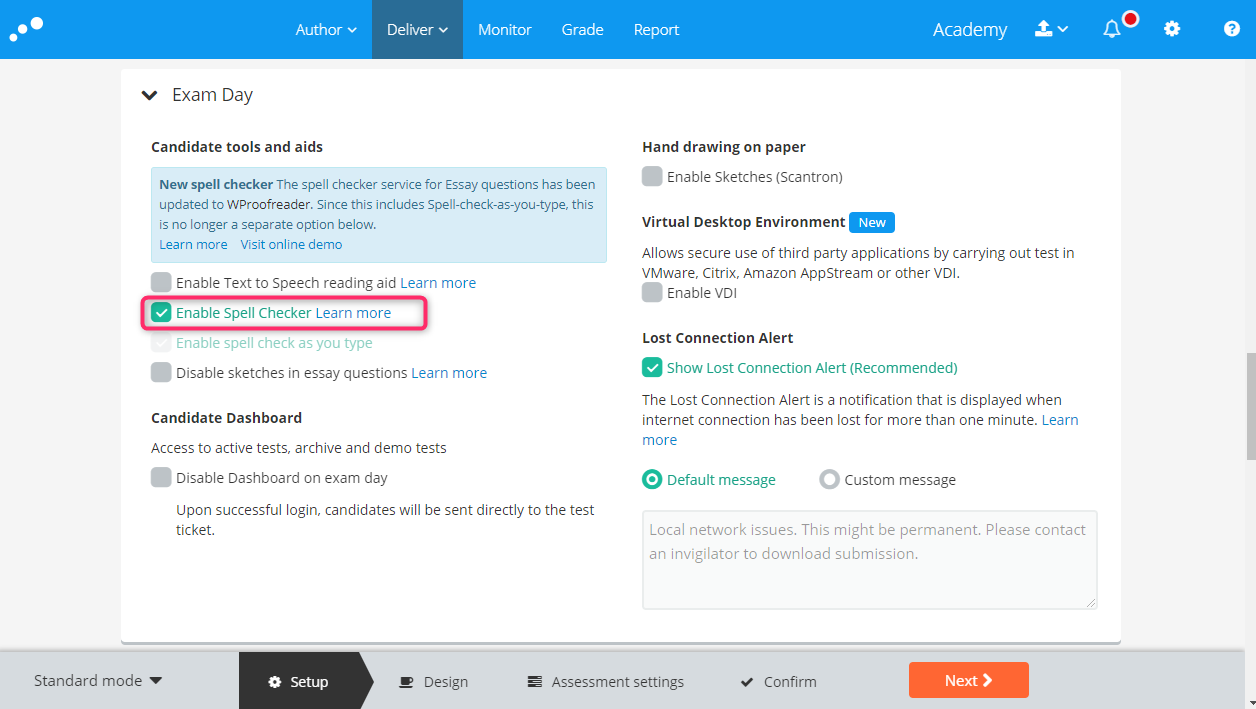 Preview how this will look for students by clicking Next and previewing your essay question type in the Design page.
Candidate spell checker menu
Click (1) the Disable icon to disable spellchecker.
Click (2) the Settings icon to view Language and Ignore options
Click (3) the Proofread in dialog to view suggestions or ignore changes.
View (4) Suggestions found.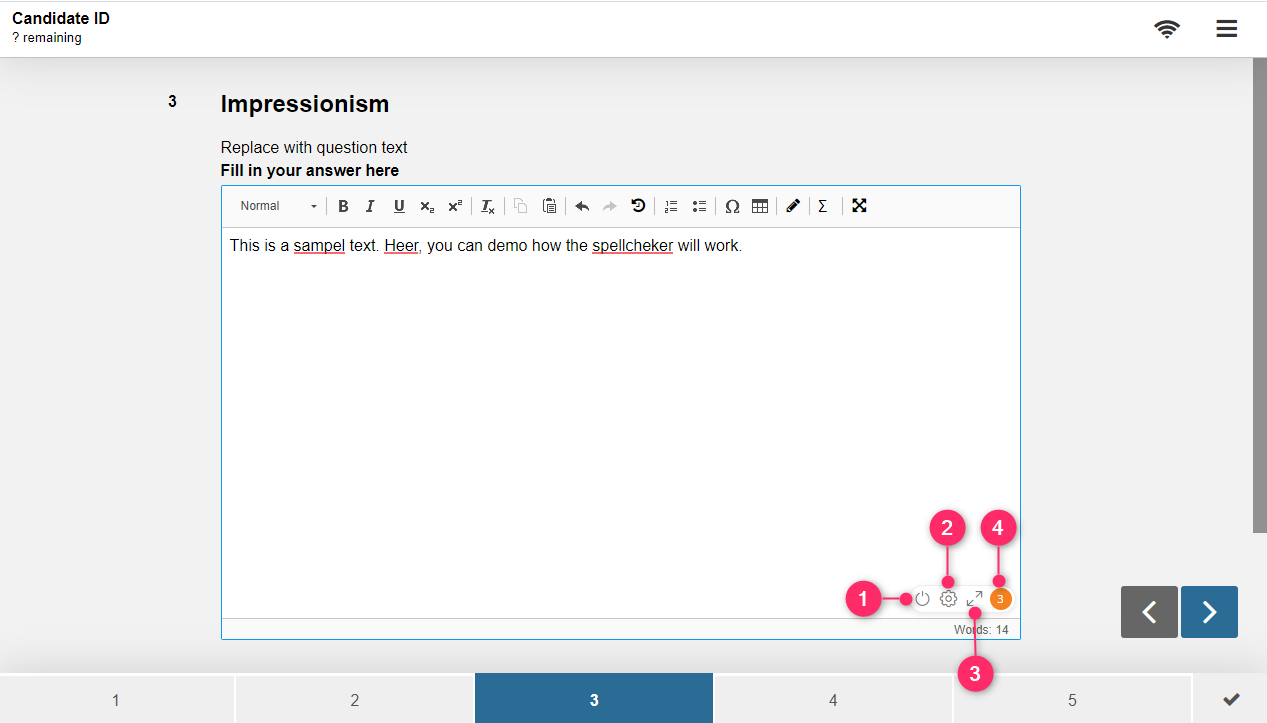 Candidate spell checker settings
Click the Settings icon to adjust the following settings:
Language - Auto Detect

will automatically detect the language inputted by the candidate. English is detected as American English unless otherwise specified by the institution. C

lick the pulldown to select from a list of languages.
Ignore options

All caps words - CAPS
Domain names - domain.com
Mixed case - Ctrl+
Words with numbers - h20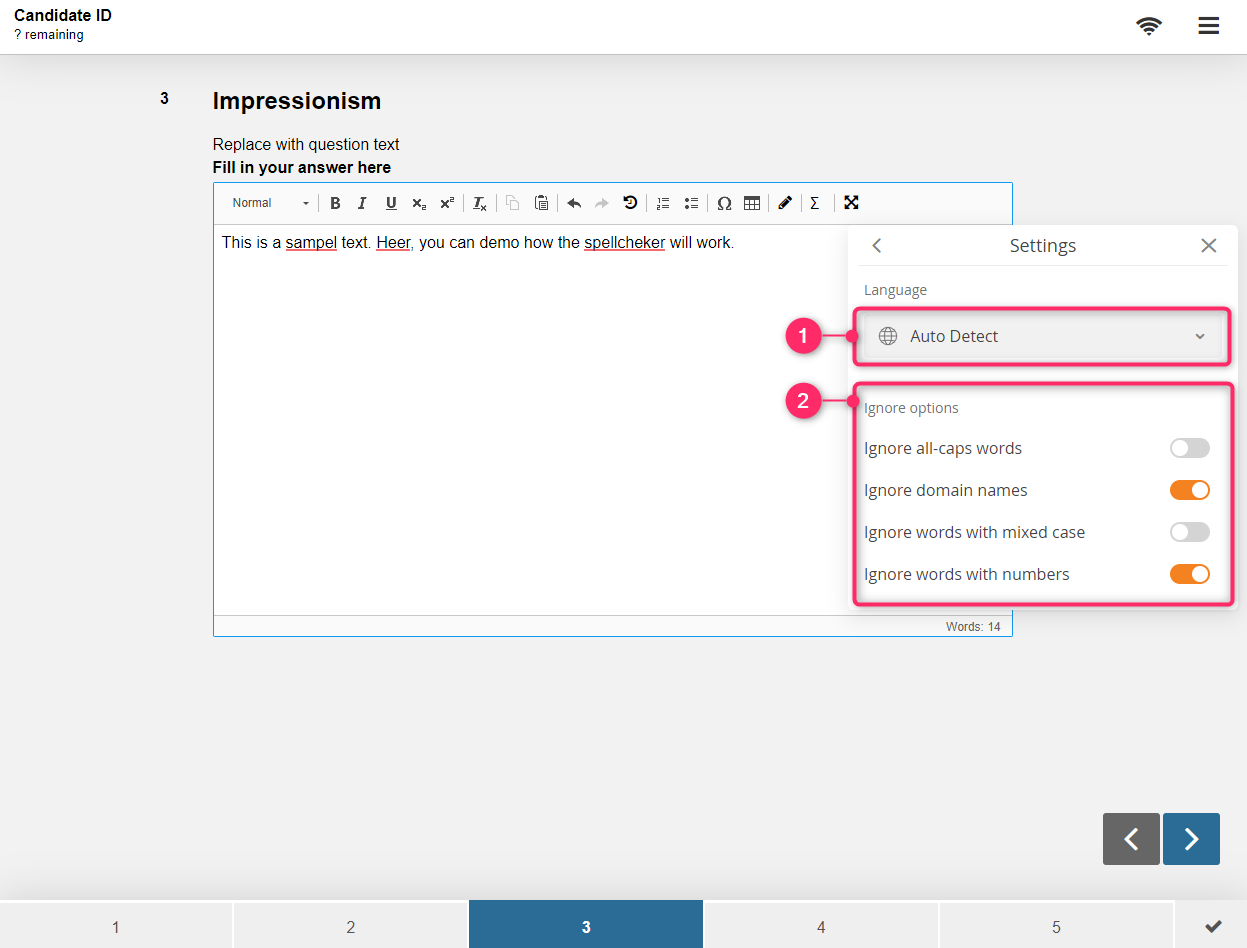 Supported languages
The spellchecker tool in Inspera Assessment supports the following languages:
American English
Arabic
Australian English
Brazilian Portuguese
British English
Canadian English
Canadian French
Danish
Dutch
Finnish
French
German
Greek
Hebrew
Icelandic
Italian
Japanese
Korean
Maori
New Zealand English
Norwegian Bokmal
Norwegian Nynorsk
Polish
Portuguese
Russian
Simplified Chinese
Spanish
Swedish
Ukrainian
Welsh