Automatically marked question.

The question is answered by matching values in rows and columns.
Matching / pairing is a question type where the candidates can find which values, expressions, places, phenomena etc. that fits together. The question kan also be used as a check table.
In the question's edit mode, you can do the following:

1. Replace text with desired question text.
2. Add math (LaTex), files, tables, links, PDF, images and / or audio clips to the question text.'
3. Set general options for the question type. Read more about general options for questions.
Specific options
Clicking on the interaction element gives you the specific options for the question type.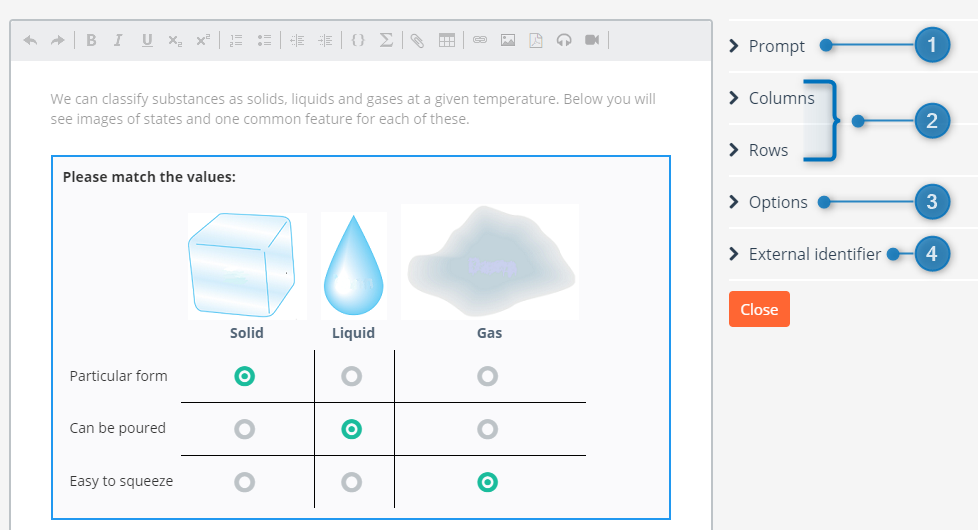 1. Prompt
Write an explanation text for the question. The text will appear in the workspace. "Please match the values:" is set by default.
2. Columns and Rows
Use these options to update the text in each column and each row.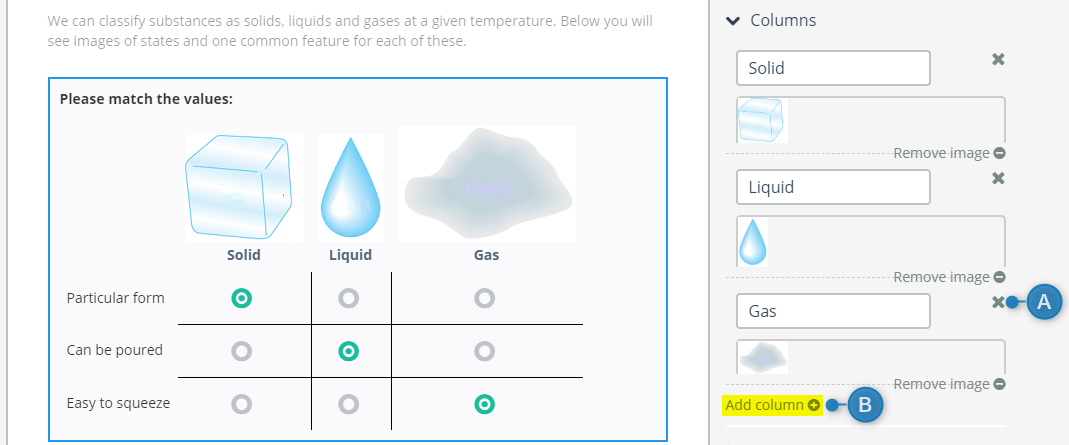 Note that you can add an image for each column and row view. To add an image, click Add image under the text boxes. By typing text in the text boxes you will get text with the images.
You can also remove (A) or add (B) columns and rows.
Note: Do not forget to select the correct solution in the interaction element by matching the correct columns and rows. The solution will be marked with green circles.
Warning:
Too many rows/columns or to wide rows/columns can cause the user experience to be compromised. Please preview the question to ensure the candidate experience is as expected. This also applies to PDF versions of the submission, where part of the question will be cut off in the PDF.
3. Options
Lower and upper mark limit: Can be set for each interaction element. The value here will override the mark settings set for the whole question. Read more about this in the article on advanced scoring.
4. External identifier
For information on external identifier, read general options for questions.