Information: A support request is for asking questions or requesting general help.
Content
How to submit a support request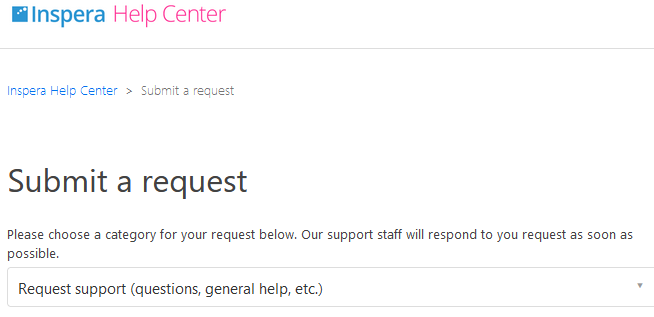 Tip: The more detailed information you provide from the start, the faster the request can be processed.
Request information
Test URL
The test URL looks like <companyname>.inspera.com/admin#deliver-test/106689030 and it provides two key pieces of information:
The tenant name: companyname.inspera.com/admin#deliver-test/106689030 and the
Assessment run ID (ARID), which is the unique identifier for the test represented by the numerical value at the end of the test URL: companyname.inspera.com/admin#deliver-test/106689030
Candidate ID
Include relevant candidate ID(s). Candidate IDs can be found in the Monitor view for the relevant test. If all candidates on a test are relevant, please enter 'all candidates'.
Description
Please include as much information as possible in the description field. For instance, describe
What is the context?

Who is the user (candidate or staff)?
What role(s) does the staff user have (system roles, contributor roles)?

What help centre articles have you reviewed?
What is your query?
Attachments
Attachments can be short videos or screen shots. Please include the full computer screen in the shot, including the URL, task bar and date/clock.