Below you will find all general product updates made available in Inspera in 2022. Please note that details on planned releases are added approximately 10 days ahead of the release and there might be changes running up until the release date.
For more insight into what the Inspera team is working on, please visit our public roadmap.
You can also subscribe to our monthly Release Notes in email by Registering Here.
January release
Release date: January 7th, 2022
These notes will be updated running up until the release is deployed late pm January 7th.
Heads up
Downtime with release
Expect some downtime between Jan 7, 2022, 22:00 CET - Jan 8, 2022, 00:00 CET.
Within the maintenance window in January, we are making some changes to the infrastructure of Inspera Assessment that requires service wide downtime. To keep up with our system updates, visit the status page here.
Safe Exam Browser (SEB) version support
February: add support for 3.0 Mac (found issues in testing that need fixing)

February: add support 3.3.1 Windows

March: remove support for Win 3.0.1, Mac 2.1.4 and 2.3.2.

Please note that SEB will no longer be supported on Windows 7.
If there are any questions regarding the versions of SEB that will be supported, please contact the Service Desk for assistance.
SEB has ended support for Windows 7
This does not mean that SEB does not work with Windows 7, but that neither testing nor bug fixing is done for Windows 7. The background for removing this support is that Windows themselves ended support for this operation system in January 2020. Customers who want to use SEB with Windows 7 in the future should test the compatibility prior to their exam periods. This does not affect customers using IEP/ISP, where Windows 7 is still supported. System requirements can be found here.
New authentication token format in APIs in February release
New format for auth-tokens used in API's. This is only relevant if you are currently persisting the access-token you receive when authenticating for API-use. We are changing from fixed-length tokens to JWT that will be longer and not have a predetermined length. Please adjust storage accordingly before the February release (Feb 4th). Please get in touch with us if you have any further questions or if your integrations won't be able to support this change.
New entry point for Help Center in Swedish
To see Help Center articles in Swedish, you select Swedish at the bottom right corner of the help center main page.
New in this release
Update to Inspera Exam Portal (IEP)
We are updating all existing clients to Inspera Exam Portal version 1.13.x by January 7th. You will receive the new version through your customer contact.
Versions below 1.13 will not be supported past January 14th. If a candidate tries to login with an older version, they will receive a message asking them to update.
For more information on what changes have been made to each version of IEP, visit our Help Center.
Support for languages in audio and image alternatives in MCQ and MRQ enabled for all
Available for Authors: We have previously added support for alternating between different languages within the audio and image alternatives for Multiple Choice and Multiple Response questions. This has now been enabled for all.
Full release of Candidate report
Available for Planners/Graders: You may fully rely on the Candidate report to distribute results to candidates now that the feature is complete. The following components have been added this release:
Result: Displays the candidate's final grade

Submission: View and download the candidate submission

Explanation of grades: View received explanation of grades
Results/submissions/grade explanations will appear in both the Candidate dashboard and the Candidate report if the Candidate report is enabled; however, if Marking 2.0 is enabled, we recommend users to send candidates to the Candidate report for the entire scope of results. Learn more here.
Other minor improvements
Authoring:
Authoring bands and criteria with decimals: improved and more intuitive way of using keyboard to set numbers for max marks per criteria and band.
Candidate experience:
Fixed issue with Math Working answer box exceeding the page in PDF print view.
Fixed issue with progress bar clearing when the test page is refreshed.
With the exception of Windows Narrator, an issue with screen readers not reading the progress bar correctly has been resolved.
Pause and resume: Extra time is rounded to the nearest second and not the minute.
Fixed issue with submissions not being available for graders: In some edge cases, candidate submissions have not been available in the UI due to issues with candidates having multiple sessions open at the same time. Old sessions will now be invalidated and issues should not appear anymore.
Marking:
The

annotation

panel has been updated to a newer version.

We are now hiding irrelevant workspaces when certain features are not enabled on the account/tenant. If Appeals or Explanation is not enabled, for example, the "Appeals" or "Explanations" workspace will be hidden.

During marking, a "Show all" mode has been added to allow markers to see all bands and criteria for a question: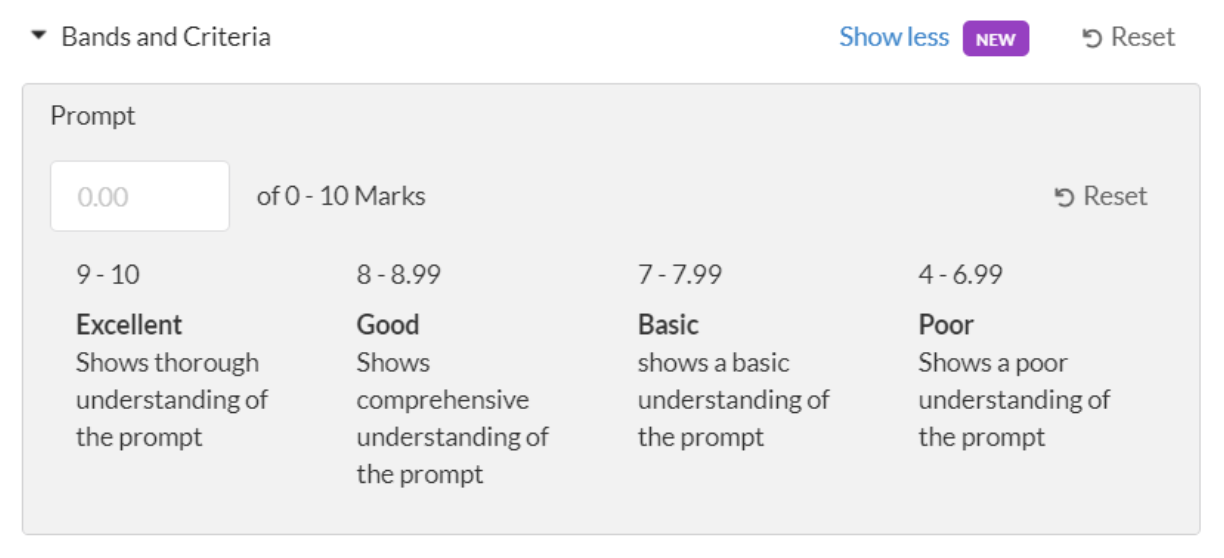 Integrations:
Ladok integration:
Added support for setting template from which tests will be created in Inspera Assessment.
LTI integration:
Added functionality to turn grading function on after test has been created in Inspera Assessment and grades will still be passed back:

For Moodle and Canvas: it is now possible to turn result passback feature on LTI tool after test has been created in Inspera

For BlackBoard: it is now possible to turn "enable evaluation" on after test has been created in Inspera

Important note:

grade passback/evaluation function has to be turned on in LMS - and activated via a launch-link, before candidates start logging to Inspera to take the test.
Bug fixes:
Fixed a bug where it was not possible to remove room/building from candidate users even when empty values were passed in API payload. New parameters added to remove those. "removeRoomName" and "removeBuildingName"
For developers
API:
The field "SourceTemplateId" is changed to have effect until the test is activated, and can now be used to change to another template than used when creating the test. Or simply apply a template to an existing test created without one.

Added support on all asynchronous API endpoints to set custom expiry-time on the pre-signed URLs

Added parameter "

expiryPeriod" on API,

with default value of 3600 seconds (one hour) . Allowed values will be 300 - 86400 (5 minutes to 24 hours)

Swagger documentation is updated on all endpoints where it is possible to send this parameter as part of API call