This is available for planners and graders.
Information: This feature is currently in Beta and only available to customers with test accounts. To test and activate, please contact our Service Desk.
The Student Report in Marking 2.0 is a solid foundation towards providing richer feedback to students after the test. As the first step, Student Reports will be added to the already existing student dashboard and includes an improved way for students to view the received annotations and achieved marks. We will continue adding more components into student report, such as viewing submission, explanation of grades and so on.

Student reports will be generated after grading, and students can log back into Inspera Asessment to view their marks and comments from graders. Inspera Assessment will offer printable versions of student reports to hand off to students as well. This article will go over how to enable Student reports, and configure what the Student report contains.
Table of contents
1.1 Test settings - Enable Student report
Under the Deliver module, start by

creating your test.

In Options, navigate to the drop-down menu General settings.
Click the Enable Marking 2.0 on this test.

Click the Enable Student Report.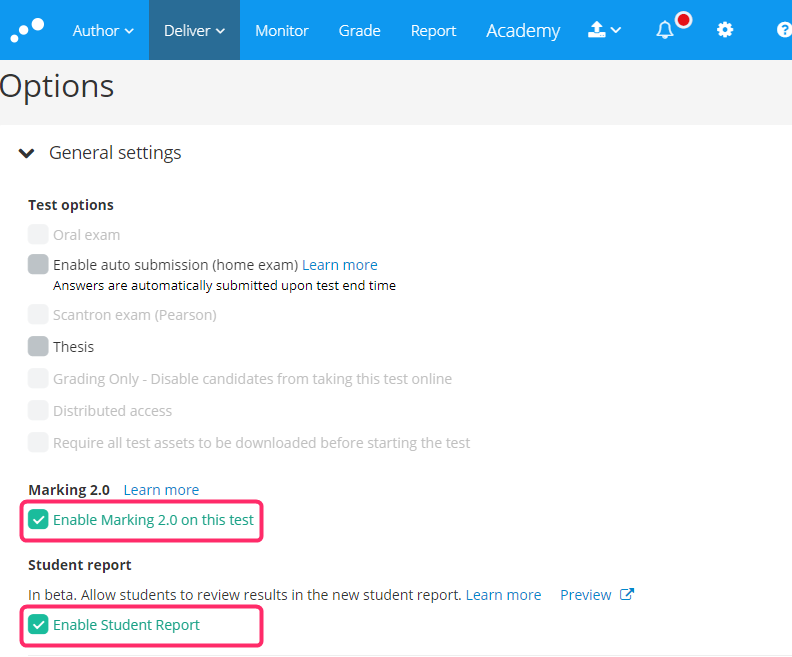 1.2 Test settings - After test
You can modify the content of Student report by adjusting the following settings in the After test section.
In options, navigate to After test.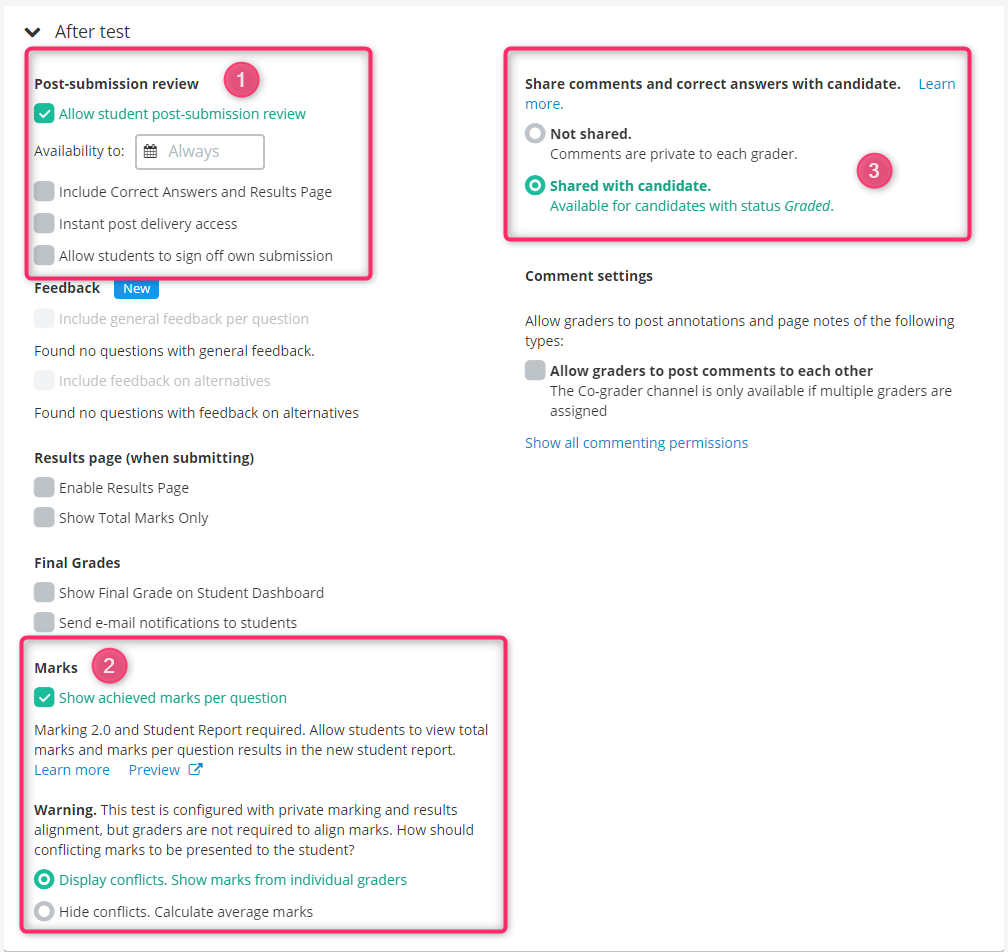 1.2.1 Post-submission review (1)
Click Allow student post-submission review to enable:
View in submission in the Student report.

Students click on View in submission to view their submission with grader's comments.
Note: Post-submission (1) review and Share comments (3) must be enabled together for the student to be able to see the comments together with the question text and their answer to the question.

1.2.2 Marks (2)
Click Show achieved marks per person to enable:
Marks overview in the Student report.

Marks overview allows students to view their total marks and marks per question.

Select Display conflicts to allow students to see individual marks from each grader.
Select Hide conflicts to display an average score from graders.

1.2.3 Comments (3)
Click Share comments and correct answers with candidate to enable:
Comments overview in the Student report.

Comments overview allows students to view comments made by graders during the marking process.

Select Not shared if you

do not

want comments through annotations to be shared with your student.
Select Shared with candidate if you want comments through annotations to be shared with your student.

If the setting Post-submission review is not activated in the test settings, the link "View in submission" will not be visible to the students. This lets the students to see the comments from the graders without being able to view the question text and their answer to the question.
1.3 Additional features in Test Settings
These are additional features that you can enable in the test settings for students to view in Student Report:
To view how this appears in the Student Report, learn more in the View Student Report article.
Known Limitations:
LaTeX format is not fully supported.
Results from Appeals are not supported.