Inspera Smarter Proctoring

This video presentation was a part of the Inspera Seminar 2020 and provides a full overview of what Inspera Smarter Proctoring is and how to use it.
What is Inspera Smarter Proctoring?
Inspera Smarter Proctoring (Remote exam) offers a Record, Alert and Review approach to online proctoring to increase test integrity at home exams. Smarter Proctoring can be enabled for specific tests through test setup. Inspera Smarter Proctoring includes the following features:
Identity verification: Simplify identity checks with AI facial-recognition.
Advanced monitoring: Monitor test takers live, get notified of any suspicious behaviour and intervene as required.
Test session recordings: Review end-to-end video recordings of each test taker's webcam (video & audio) and screen, or navigate directly to flagged suspicious activities.
Network resilience: Continuous monitoring despite the temporary loss of internet connectivity.
Lockdown browser: Turn any device temporarily into a secure workstation by preventing access to all unauthorised programs and resources.
Integrity inspection: Certificate based signing of applications and communications to ensure the software has not been tampered with.

Enabling Smarter Proctoring
Please talk to your customer representative/service desk to get a quote, and enable Smarter Proctoring for your plan. Once Smarter Proctoring is enabled for your account you can choose to enable it for a particular test in your test settings.
Note: Both Enable Inspera SEB and Automatically close lockdown browser when test is completed must be checked.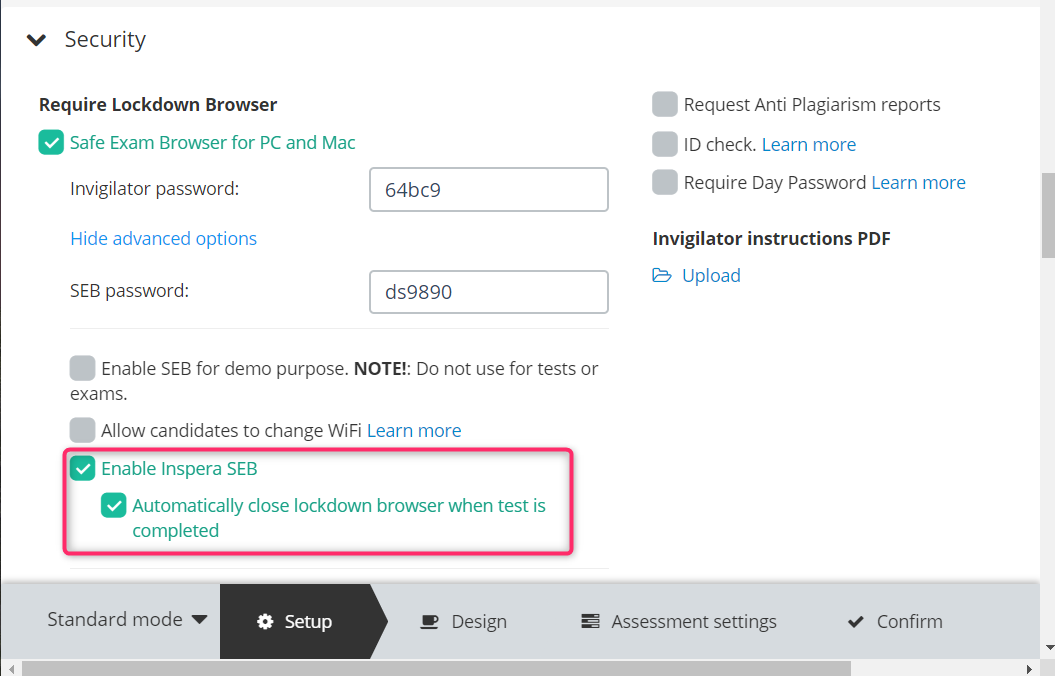 Taking Smarter Proctoring (test taker experience)
Below is the user flow for test takers. They start with pre checks to ensure that the system is compatible with Smarter Proctoring. This is followed by logging in, test selection and taking photo and ID for comparison. At the end of this user flow, the test taker starts a Smarter Proctoring exam which is recorded.
A more detailed test taker guide is available.
Inspera Pre-Checks
There are three pre-checks that will follow after an introduction to the test taker.
Automatic system check
Microphone check
Webcam check
Inspera Id-Verification
The ID verification is a combination of username and password to sign in, PIN for unlocking the test, and pictures of face and ID card. The picture the test taker snaps will be used for face recognition to determine confidence levels of later events.
Log in
Select test
Take picture
Take picture of id-card
Minimum system requirements for Smarter Proctoring
Windows: 7, 8 and 10 on 64-bit platforms
macOS: OS X 10.13 and higher
CPUs newer than 2011 (Intel Sandy Bridge or newer)
500 MB of free storage space (for 2 hr exam)
Web camera & microphone (internal or external)
A broadband internet connection (0.15Mbps upload speed)
Monitoring Remote Exams
Planners with extended access and Chief Invigilator can see the test session confidence level and review the test session recording.
More details are available in the article for Chief Invigilator.
High-level overview
To enable the test session review functionality, the Confidence Level column in the Monitor tool must be enabled.
In Monitor, the confidence column will show flags (if applicable), the confidence level percentage, and the number of recorded events during the session.
Test session video review
When clicking on Confidence Level it opens the video recording of the test session.
On the video player bar there are coloured strokes showing Event Types "Enter Frame" and "Leave Frame":
Events with confidence level < 70% are marked in red
Events with confidence level > 70% are marked in green
Events without confidence level are marked in amber
Test Session Event Inspection
When clicking on the Events tab, the list of all test session events opens. The current event types are:
Enter Frame event
Leave Frame event
ID Verification event, showing photo and ID-card captured as well as confidence level
Noise event
Multiple sessions
In case a test taker logs in and out multiple times during a test, session is recorded for each time. You can select which session to check in the session panel.