Note: By adding GeoGebra as a resource, the candidates can access local files on their devices through the main menu and "Image"-tool. This may be a security risk when using Safe Exam Browser (SEB).

Why:
GeoGebra as a resource lets the candidates use GeoGebra as a graphic calculator and/or a sketching tool.
At geogebra.org you can choose between different Applications which you can add as resources in a question set:
Graphing Calculator
3D Calculator
CAS Calculator
Geometry
GeoGebra Classic
Probability
Notes
Note: By using GeoGebra as a resource the grader won't see what the candidates have done in GeoGebra. Any work in the resource will not be saved, and cannot be submitted along with the rest of the submission.
How to add GeoGebra as a resource:
1. Create a file
Create a GeoGebra-file (ggb-file) in GeoGebra Classic App on your device or in one of the applications at www.geogebra.org.
Tip: When you create a ggb-file you can customize which perspectives or tools the candidates can use. You can customize a ggb-file in the same way as when you use GeoGebra as a question type in Inspera Assessment.
For example, if you want your candidates to use the 3D Calculator only, create a ggb-file with just this perspective. You can also add text/information for the candidates into the file.
Read more about how to use GeoGebra in Inspera Assessment here.
2. Save the file
Save the ggb-file in your user profile at geogebra.org (you must have an account).
The image below shows two ways of saving your file at geogebra.org.

3. Open in App and copy URL
Go to resources at your user profile at geogebra.org, and open the ggb-file by clicking "Open in App".

Copy the URL from your ggb-file.

4. Add the resource
Go to the Question Set, which you want to add the resource to, in Inspera Assessment. Click "Show resources" in the right lower corner.
Then "Add resource" and choose "URL". Paste the URL to the ggb-file.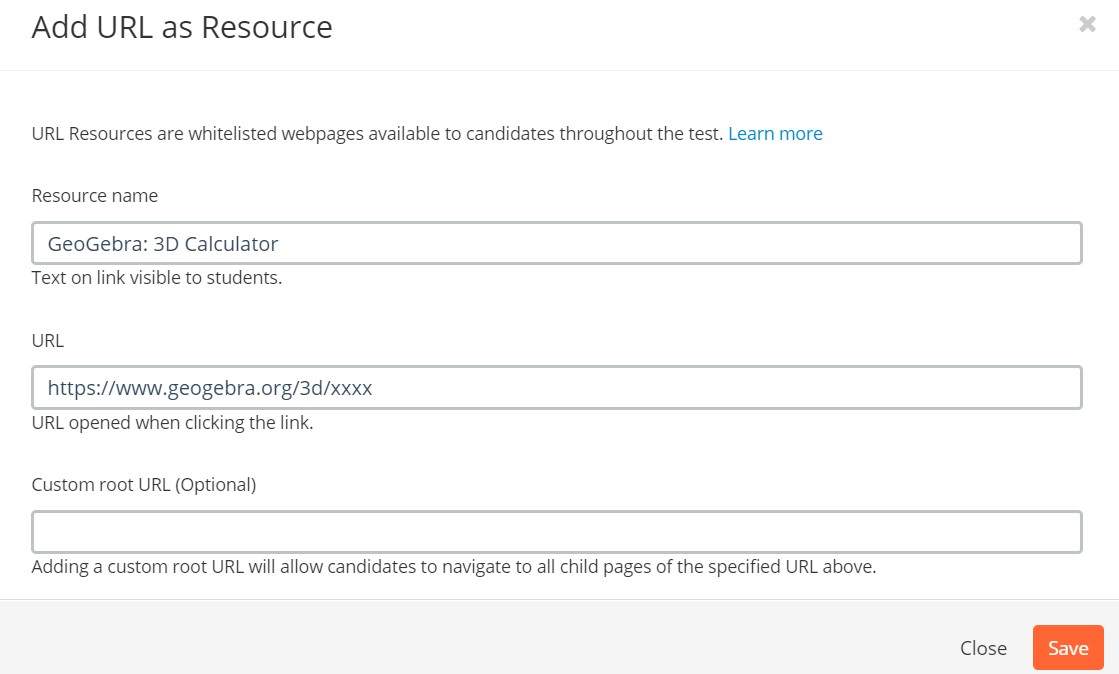 You can add several resources in to a question set.
How it appears for the candidates:
The candidates will find the GeoGebra-resource(s) at the bottom of the test.

When the candidates opens a resource in SEB, it appears in a window on the right side in the test. They can only have one resource up at a time. By clicking another resource, this will overflow the current resource. It is possible to get back to the last resource by clicking the minimize button.
Note: If a candidate closes a resource, what has been done in the resource will disappear for the candidate.