Available for Author. This feature requires activation.
Export questions and question sets:
1) Go to Author > Question sets, or Author > Questions.
When a question or question set is focused, there will be options to Edit, Preview and More. Select More from the drop down menu.


2) Select the option Export to QTI.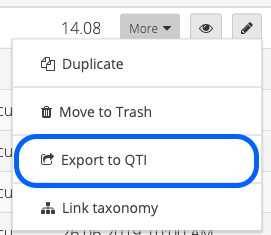 3) Click continue to start the export. This action may take some time, have patience if you export a large question set.
It is optional to include Inspera namespaces and content, but this is recommended if the question set is going to be imported into Inspera again. This setting includes any additional question content that is not natively supported by the QTI standard. This includes the Rubrics associated with the question.
You can choose which QTI version to export to if the question/question set is supported by both. 
A check will be performed when you export, and if the content does not meet the requirements for 2.2, then 2.1 will be attempted (and vice versa). In practice, if the question/question set is only supported in one of the versions, the option to choose will not be available. 
QTI 2.2 is pre-selected and is also recommended.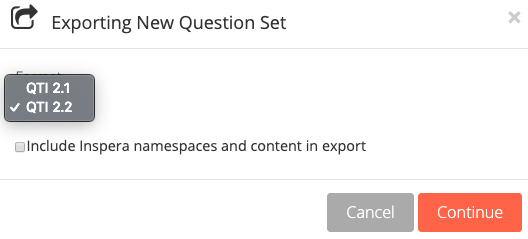 4) Download the export (ZIP-format)
All questions are delivered in a zip file.

All questions in question sets are exported in the same order as they are presented, as individual questions.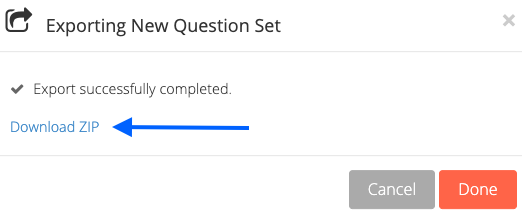 Finish by clicking "Done". The exported zip-file containing your questions is now saved locally on your computer for future use.
---
How it works
All questions in question sets are exported in the same order as they are presented, as individual questions.

All question types - like GeoGebra, Math entry, etc., will be included

Mark scheme are included

Sections are not included

GeoGebra data exported from Inspera Assessment will not necessarily be supported by import to a system other than Inspera Assessment