Available for Grader
The Private note tool allows graders to make notes during grading. While grading, they will be displayed in a sidebar on the right side. The private note feature includes the following:
Visible only to you.

Add private notes on

candidate level and/or question level.

Private notes are automatically saved.

Private notes can be added to Explanations.
Instructions
1. Open the test in Grade and click on Grade your candidates

2. Select a candidate from the list. Private notes are available on the right side.

You can also write private notes on question level. Select a question in the candidate overview page:

3. Click on the box under Private note to write. The content will be saved automatically. Use the editor if necessary.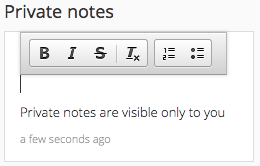 Grader View
Your private notes will be displayed in the candidate list as well as in the overview page for each candidate. To go directly to the question a comment belongs to, you can click on the link at the top of the comment.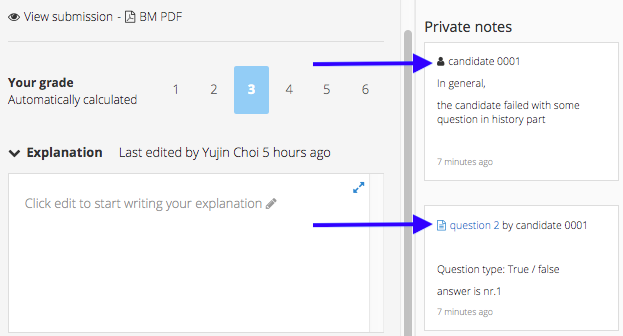 Note: If you are looking at the candidate list, the right sidebar might not contain all of your private notes, depending on how many candidates you are assigned, and how many comments you have made. To see all private comments for a particular candidate we recommend that you open that candidate from the list.