Tests without Safe Exam Browser can be set up to submit the student's answers automatically when the test ends.
On tests without Safe Exam Browser (typically home exams), the planner can enable auto submission. The test will then automatically submit when the closing time is reached for each candidate. Until then, the candidates can change their submission an unlimited number of times. As the test is submitted automatically, the submit button that is available will send the student back to the Dashboard, where they can open the test again to change their answer. Note that candidates with an empty submission at the test end time will not be submitted. Grading can start when standard closing time and/or standard closing time + extra time is reached.
Two minutes after the test end time is reached, the status of all candidates that have answered is updated to Submitted.
If a student has an individual deadline, or extra time added, their answer will be submitted when the individual time runs out.
Settings for Planner
The Planner can select to enable auto submission in the general settings of a test.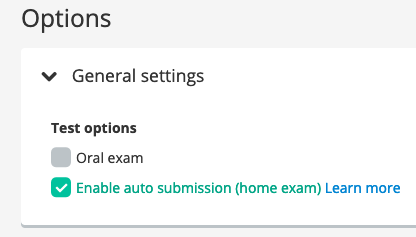 Student experience
Before the candidate starts the test and as long as  they haven't answered any questions they will get the following information on their Dashboard: You have not attempted any questions and your answers will not be submitted.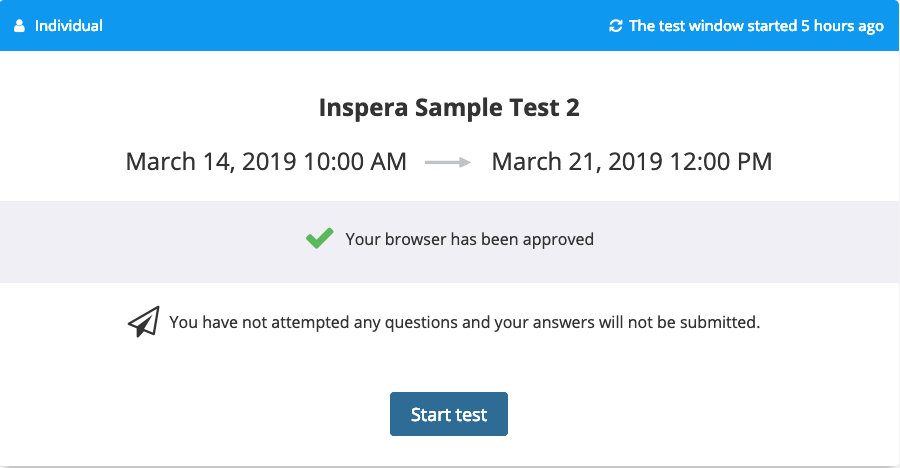 The candidate then starts the test as normal and will get the following message when they have answered the questions and navigated to the submit page.

The candidate can edit or delete their submission an unlimited number of times as long as the test window is open.

The answers will be submitted when the test closes. 
Information
: We also offer another setting that allows the candidates to submit once. The setting requires activation.
This works the same way as tests without auto submission. If this is enabled and the candidate submits, the test will no longer be open for that candidate. The purpose of this setting is to make sure that even candidates who forget to click submit also get status submitted when the test window ends.
Service Desk will be able to provide guidance on how you can use this setting if required.