Available for Planner and Invigilator/Chief Invigilator
ID verification is done by checking the student's ID card primarily after the candidate has submitted. The purpose of the functionality is to prevent the candidates from leaving without having their ID confirmed or rejected.

ID verification can be done in Monitor at any point after the test is activated. A log event will be added when ID is confirmed or rejected.
Note: A rejected ID does not prevent the candidate from submitting. It only sets a candidate status in the Monitor tool.
Instructions
To enable ID verification of students on submission, go to the test settings where the planner needs to check the box ID check in Options - Security. It is also possible to do this after the test has started.
1. Candidate submits
After submission, if an ID check has not been performed earlier, a message will appear for the candidate: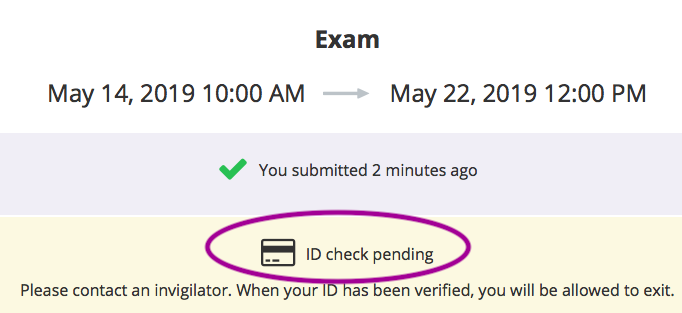 The candidate is not able to exit Safe Exam Browser until the ID is checked and must contact an invigilator
2. Invigilator checks and confirms ID in Monitor

Select the candidate from the list and either confirm or reject the ID. A confirmation message will appear on top of the window once one of the options are clicked.

The candidate then gets a confirmation that the ID is checked and is allowed to exit SEB.