Note: This feature is included in all plans but requires activation.
Individual end time is an optional candidate field that can be edited in Deliver and Monitor. It improves management of tests where students have separate deadlines, such as thesis submissions. It can also be used as an alternative to extra time in cases where it makes more sense to set a specific deadline directly rather than calculating deadline in minutes or hours relative to standard end time.
How it works
Information: Norwegian customers that have an integration with FS must set the individual deadline in FS. The fields to set this deadline will not be available in tests that have an active connection to FS. Individual deadlines are continuously synchronised, even after the test has started.
When defined, the individual end time (date and timestamp) overrides standard end time for a given candidate. This applies to individual deadlines that are set before the test end time as well.
If an Individual end time is not set (or is removed), the standard test end time applies as normal. Any planned and/or incident extra time is added to individual end time. Editing individual end time will not make any changes to extra time.
For tests with the setting auto submission enabled, the individual deadline cannot be set to more than 5 months after the standard end time.

New column and time-filter in Monitor available
Individual end time can also be used on group exams. The latest deadline within a group is applied to all members of the group and automatically updated whenever members are added or removed. In tests with auto-submit enabled, responses are automatically submitted when individual end time has passed.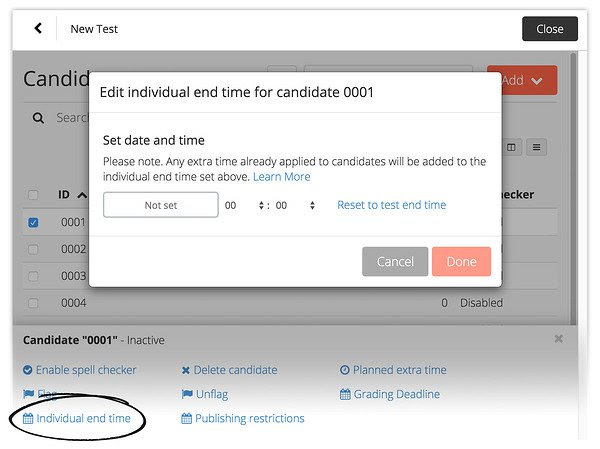 Individual end time can be set individually and in batch in Deliver and Monitor.
Taking a test with individual end times
Given that a candidate has an individual end time defined, this time stamp is then replacing the standard test-end time in the student dashboard and during the test.
No other, visual changes take effect.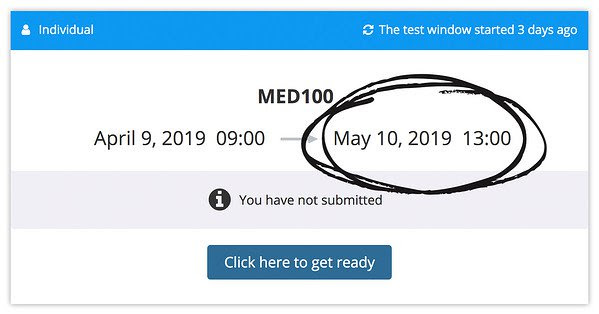 Individual end time on student dashboard