This is available for Planners and Chief Invigilators.
You can temporarily pause and disable candidates from editing their submissions during live tests.
Prerequisites
Candidate(s) has started the test (Active session is not required)
Test End Time has not been reached
Content
How to pause candidate exams
In the Monitor module, choose the candidate(s) by selecting the empty checkboxes by their ID.
Select Pause from the footer menu, or More from the candidate's row.
In Monitor, the candidate Progress column is now updated to Paused.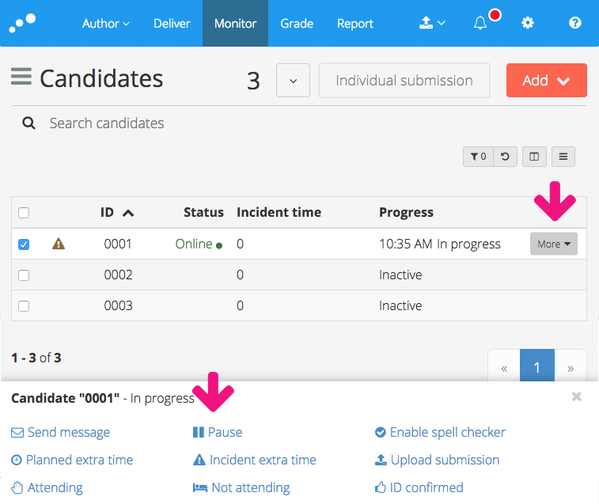 How to resume candidate exams
To enable candidates to continue working on their submission, select candidate(s) and press Resume.
Important
If the Pause lasts more than a minute, the elapsed time during pause is automatically added as Incident time (minutes and seconds). The "paused time" will stop at the nearest second.

If the pause lasts less than a minute, no incident time is added
The Candidate Interface (Assessment Player) then returns to regular editing mode.
Candidate experience
When an Invigilator pauses the candidate's exam, the whole screen is disabled, informing the candidate that the test session has been paused.
Candidates can not navigate or edit their responses.
Candidates can see that their remaining time is paused.
Candidates can see their connection status.
Note: The candidate must be online for the pausing to take effect in the Assessment player.